Books of the Bible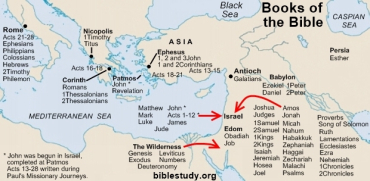 Where did they write the Old Testament books?
Moses wrote the first five manuscripts of the Bible while children of Israel wandered the wilderness for forty years after the Exodus. Ezekiel and Daniel were written in Babylon. Obadiah was penned in Edom, as was Job. Esther authored the section named after her in Persia. The remaining books of the Bible manuscripts were all recorded in the Land of Israel.
Where did they write the New Testament?
The gospels of Matthew, Mark, Luke, most of the gospel of John, the first twelve chapters of Acts, plus the epistles of James and Jude were recorded in the land of Israel. Luke wrote chapters 13 through 15 of Acts somewhere along the route of Apostle Paul's first missionary journey. He recorded chapters 16 to part of 18 near Corinth, finished 18 to chapter 21 near the region of Ephesus, and then completed his work in the city the Rome.
It was at or near Corinth that the manuscripts for Romans, plus 1 and 2 Thessalonians was recorded. Paul created the epistles of 1Timothy and Titus in Nicopolis and the epistle to the Galatians in Syrian Antioch. In the capital city of Rome were written the Bible books of Ephesians, Philippians, Colossians, Hebrews, 2Timothy, and Philemon.
It was in the chief city of Asia Minor, Ephesus, that 1, 2 and 3 John, in addition to the two epistles to the Corinthians, were recorded. 1 and 2 Peter was authored in the region of ancient Babylon. The apostle John not only completed his gospel but also recorded the prophetic vision known as Revelation from the island of Patmos, which is located in the Aegean Sea.
Job, written around the 1660s B.C., is considered the oldest recorded Bible manuscript. Including Job, a total of nine books were completed before 1000 B.C. The remaining part of the Old Testament, with the exception of Malachi, was put in a written form between 1000 and 500 B.C. It took a much shorter time to compose the New Testament. From the time of the first manuscript written to papyrus in 35 A.D. (the gospel of Matthew) to the last one completed in 95 A.D. (Revelation) is only sixty years