This page lists information on those named Luke to Persis who had contact or a relationship with the Apostle Paul. Other people who played a part in Paul's life and ministry are listed at
the bottom of this article.
Luke (Lucas)
Colossians 4:14, 2Timothy 4:11
Philemon 1:24
Luke, a Gentile convert to Christianity, is one of the four Gospel writers as well as authoring the book of Acts. In the endnote of 2Corinthians he is listed, along with Titus, as writing the epistle dictated by Paul. Although his role in the church's early history was important, he is only referenced by name three times in the New Testament. Interestingly, he never mentions his own name anywhere in Acts!
Luke was one of the most trusted and loved fellow laborers of Paul. He is affectionately referred to as "the beloved physician" in Colossians 4.
Luke traveled with Paul on part of his second and third missionary journeys. He also accompanied the apostle from Caesarea to Rome in 60 A.D. during what is called the Fourth Missionary Journey. Luke is again with Paul in 67 A.D. during his final imprisonment in Rome.
It is uncertain what happened to Luke later in his life. According to Foxe's Book of Martyrs, he may have died as a martyr by being hanged on an olive tree in Greece. Another tradition states he died at the age of 84.
Lydia was a prosperous Thyatira-based businesswoman who sold purple dye. The dye's rarity in nature, along with the time and effort it took to collect it, made it a highly prized and expensive commodity sought by kings and rulers. Lydia's income was such that she could afford a home in both Thyatira and Philippi.
Lydia was visiting Philippi when Paul and Silas arrived in the city during his second missionary journey. After hearing the apostle preach, not only was she baptized but her entire household as well! She became Paul's first evangelistic convert on the continent of Europe.
Lydia was a generous and hospitable woman who insisted the two traveling evangelists stay in her Philippi residence. After the evangelistic duo were beaten, placed in prison and then miraculously released, they went to her home before leaving the city.
Lysias (Claudius Lysias)
Acts 21:31 - 33, 22:24 - 29, 23:26, 24:7, 22
Claudius Lysias was a Roman army chief captain stationed in Jerusalem. A Greek by birth, he had purchased his Roman citizenship for a hefty price.
It was Lysias who, when a riot broke out at the temple risking the life of Paul, rushed in with his troops to arrest (and save) the apostle from certain death. After discovering the apostle was a citizen of Rome, he withheld scourging him for information. Lysias then arranged for Paul to answer for himself before the Sanhedrin, a meeting that ultimately ended in chaos.
To protect Paul's life due to forty-man murder plot against him, Lysias commanded that a military escort of 200 soldiers, 70 horsemen and 200 spearmen transport the apostle, at night, to Caesarea. Once in Caesarea the apostle was delivered to Roman governor Felix. Although Felix wanted Lysias to offer his testimony concerning the case, the Bible does not record him ever doing so in Caesarea.
Manaen is labeled by Luke as one of several prophets and teachers in the church at Syrian Antioch (Acts 13). Nothing more, biblically, is known about him except that he grew up with Herod the tetrarch.
Mark (John Mark, Marcus)
Acts 12:12, 25, 15:37 - 39, Colossians 4:10
Philemon 1:24, 1Peter 5:13, 2Timothy 4:11
John Mark, a Jewish convert to Christianity, was the cousin of Barnabas and writer of the Gospel named after him. His mother is recorded as maintaining a house church in Jerusalem.
Mark traveled with Barnabas and Paul on their first missionary journey but abandoned the pair when they reach Perga. Barnabas, at the start of the second journey, wanted to give Mark another chance and take him on another evangelistic tour. Paul, however, refused to do so. Their disagreement was so sharp that it caused a separation, with Barnabas and Mark journeying to Cyprus and Paul with Silas revisiting churches in Galatia and beyond.
Years later, we find Paul reconciled to Mark. While in Rome's prison the apostle sends a greeting from Mark to the church at Colosse (Colossians 4:10). He also writes his friend Philemon that he considers Mark a fellow laborer in the gospel (Philemon 1:24).
Around 64 to 65 A.D. the apostle Peter writes that Mark is with him during his evangelism of Babylon.
In the last letter to Timothy, written in 67 A.D., Mark is listed as one of the few remaining people loyal to the apostle. Paul encourages his friend to bring Mark to Rome "because he is profitable to me for the ministry of the Word" (2Timothy 4:11).
According to Foxe's Book of Martyrs, Mark died as a martyr when he was dragged to pieces by the people of Alexandria.
Mary was one of the many Christians in Rome greeted in the book of Romans. Nothing more is known about her except that she is commended for her hard work for the apostle.
Toward the end of the third missionary journey Mnason accompanied Paul on his trip from Caesarea to Jerusalem. Mnason, a native of Cyprus, had been a Christian for many years when he traveled with him. Paul and company, upon their arrival in Jerusalem, stayed in Mnason's house.
Narcissus is greeted, as well as his entire household in Rome, in the book of Romans written from Corinth. Nothing more is known about this person.
Both Nereus and his sister, who live in Rome, are greeted in the last chapter of Romans. Nothing more is known about them except that they likely hosted a small house church.
Nymphas was a Christian woman who lived in Laodicea. Paul greets her, and those who gathered every Sabbath at her home to worship God, in the last chapter of Colossians.
Olympas was one of many church members, in Rome, to whom Paul sent his personal greetings. She may have been part of a house church that included Philologus, Julia, Nereus and his sister, as well as others.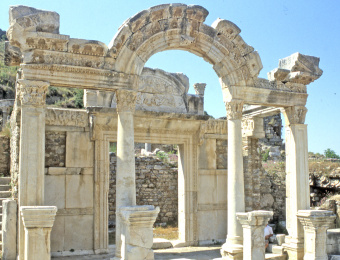 Ruins of Hadrian's temple in Ephesus
Onesimus
Colossians 4:9, Philemon 1:10
Onesimus lived in Colosse. Scripture introduces him as an educated slave of Philemon, a Christian who was a friend and helper of Paul (Philemon 1:1). The purpose of the apostle writing the book of Philemon was to appeal to his friend to treat Onesimus with forgiveness and mercy.
Onesimus was a fugitive slave who ran away from Philemon. Paul strongly hints that he robbed his owner (Philemon 1:18 - 19) and then fled. After leaving his owner he made his way to Rome and found the place where the apostle was under house arrest (Acts 28:30 - 31). Upon hearing the gospel he became a Christian (Philemon 1:10).
Although Paul greatly desired for Onesimus to stay in Rome because he aided the apostle, he sent him back to Philemon. He hoped he could convince his friend not only to forgive any wrong done by Onesimus but also to treat him as a fellow brother in the faith.
Onesimus and Tychicus together delivered the epistle to the Colossians (Colossians 4:7 - 9). Onesimus also wrote down Paul's words that became the book of Philemon. It is possible both letters were delivered at the same time since Philemon lived in Colosse. Roman Catholic tradition states Onesimus eventually became the Bishop of Berea.
Onesiphorus
2Timothy 1:16 - 18, 4:19
Onesiphorus was a Christian who lived in Ephesus. He greatly aided the Apostle Paul during his first evangelism of the city.
Paul specially commends Onesiphorus for tracking him down and visiting him during his second (and last) imprisonment in Rome. Onesiphorus frequently refreshed the apostle and was not ashamed of his chains, unlike so many others who abandoned him (2Timothy 1:15, 4:10 - 11, 16 - 17).
Paul's first stint in prison (late 61 to early 63 A.D.), discussed in Acts 28, was decidedly different from the second one he experienced. The apostle's first imprisonment in Rome entailed living in his own lodging with only one soldier guarding him. He was allowed the freedom to have as many visitors as he wanted and even to "host" several of them as he preached the gospel (see Acts 28:16 - 31).
Paul's second imprisonment, however, prior to his martyrdom in 68 A.D., was much harsher. He was not only chained but also treated as a malefactor. There is no Biblical mention of him preaching the gospel during this period. Not only was finding him in the city much harder, it was also much more dangerous to be seen with him, as those who did so risked receiving the same fate.
Patrobas was one of many Christians in Rome greeted in the book of Romans. He was likely a member of a house church attended by Asyncritus, Phlegon, Hermas, Hermes and others. Nothing more is known about him.
Persis was an important woman in Rome greeted by Paul in the last chapter of Romans. The apostle stated she was greatly beloved and had worked hard to serve.