This page lists information on those named Peter to Sergius who had contact or a relationship with the Apostle Paul. Other people who played a part in Paul's life and ministry are listed at
the bottom of this article.
Peter (Cephas)
Galatians 1:18, 2:7 - 14
1Corinthians 1:12, 3:22, 9:5, 15:5
2Peter 3:15 - 16
Peter, one of the original twelve apostles, authored two books in the New Testament. He and Paul are recorded to have met three times during their ministries.
Paul, after being taught by Jesus for three years in Arabia, journeyed to Jerusalem in 36 A.D. When he arrived in the city he stayed with Peter for fifteen days (Galatians 1:18).
When the debate over whether believers ought to be circumcised or not erupted in Syrian Antioch, Paul, Barnabas and others went to Jerusalem in 49 A.D. to settle the issue. While in the city for the important Jerusalem Conference he conferred with Peter and some of the other apostles (Galatians 2:1 - 9).
Peter, just before Paul's third missionary journey in 53 A.D., visited Syrian Antioch. During the first part of his visit, Peter readily mixed and ate with both Jewish and Gentile Christian converts. When Jewish converts visited from Jerusalem who still believed that Jews should separate themselves from Gentiles, however, he changed his behavior. Peter fell back into the same bigotry and behavior toward Gentiles he possessed before his conversion, even though such people were now Christians just like him.
Peter's bigoted and unchristian behavior put him on a collision course with Paul, who was called to be the apostle to the Gentiles (Galatians 2:7). Peter's public rebuke, though no doubt difficult to experience, was warranted (Galatians 2:11 - 21).
Peter, in his letter written around 66 A.D., not only acknowledged the truth written in Paul's letters but considered them on the same level of inspiration as Scripture (2Peter 3:15 - 16).
Philemon was a Christian living in Colosse who was a friend and helper of Paul. Every Sabbath he hosted a house church where believers came together to worship God and discuss Scripture (Philemon 1:2).
A slave owned by Philemon, named Onesimus, stole from him then fled to Rome. While he was in the capital city, he found the apostle and became converted. The Biblical book named after Philemon is the apostle's personal letter to him hoping to convince his friend to forgive and forget the wrongs committed by Onesimus. For more information, please see our listing for Onesimus.
Philetus was a false teacher who, along with Hymenseus, promoted the heretical belief that the resurrection from the dead had already occurred. According to one Biblical commentary, this teaching was a Gnostic heresy held by the Nicolaitans. Paul felt it necessary to warn his friend Timothy, in his last letter, to be wary of such false doctrines.
Philip the Evangelist
Acts 21:8
Philip the Evangelist was an early Jewish convert to Christianity. His exemplary character in the early church was such that he was selected, as well as six others, to serve members (Acts 6:1 - 6). Philip, later in his life, married, lived in Caesarea, and was the father of four virgins who possessed the gift of prophecy (teaching).
Philip and Paul met face to face when the apostle, nearing the end of his third missionary journey, stayed several days at his house in Caesarea. After his stay, he proceeded to Jerusalem. Interestingly, Philip and Stephen are the only two of the seven specially selected church servants (Acts 6) that had any recorded interaction with Paul.
Philologus was one of many Christians in Rome saluted in Romans. He seems to have attended a house church where Julia, Nereus, Olympas and others met each Sabbath. Although one Catholic tradition states Philologus was one of the seventy men trained by Jesus (see Luke 10), this speculation cannot be proved or disproved.
Phlegon was one of many Christians in Rome greeted in the last chapter of Romans. He was likely a member of a house church attended by Asyncritus, Patrobas, Hermas, Hermes and others. Nothing more is known about him.
Phoebe was a female leader in the church at Cenchrea. Paul commends her help not only to him but also to the rest of the church.
The apostle took advantage of Phoebe traveling to Rome to have her deliver a letter to the city's Christians. He requests the church, when she arrives in the city, "to assist her in whatever she may need from you" (Romans 16:2).
Phygellus' name means "fugitive." Both he and Hermogenes were Christians from Asia who turned away from Paul. The apostle conveyed their rejection to his close friend Timothy while he waited for martyrdom in Rome. Although it is possible these two men rejected Paul so as not to risk the same fate upon themselves (prison and death), Scripture is silent regarding the reasons they left him.
Priscilla and Aquila
Acts 18:2, 18, 26, 1Corinthians 16:19
Romans 16:3 - 4, 2Timothy 4:19
Aquila, who was born in the Roman province of Pontus, was a Jew who converted to Christianity (Acts 18:2). He and his wife Priscilla were Christians who had their own business and who frequently traveled.
They were tent makers just like Paul and meet him for the first time in Corinth toward the end of his second missionary journey (Acts 18). The couple had previously resided in Rome but were kicked out, along with other Jews and Christians, by Claudius Caesar.
It is interesting to note that half the time Priscilla's name is listed it is before her husband Aquila's name. This may be an indication that she had a stronger personality than her mate did.
Priscilla and Aquila accompanied Paul after he left Corinth and went with him to Ephesus. They stayed in the city when the apostle needed to continue his journey. It is after he left that they met Apollos, an eloquent man whose knowledge they completed by telling him about Jesus.
The couple resided in Ephesus long enough to meet Paul again when he comes back to the city for an extended stay during his third missionary journey. When Paul pens his letter to Corinth, from Ephesus, he sends the church greetings from the couple and from the fellowship group meeting in their home (1Corinthians 16:19).
Priscilla and Aquila leave Ephesus after Paul is chased out of the city and travel back to Rome. When the apostle writes the book of Romans from Corinth in 57 A.D., he sends his greetings to the couple and commends their selfless sacrifices for the brethren.
The couple stays loyal to Paul to the very end when many others abandoned him. His last epistle before his death salutes them and their tireless efforts for the gospel.
Publius was a resident and "chief man" (governor) of the island of Malta (Melita in the KJV). He provided lodging for Paul, who was a prisoner, and Luke, when their vessel shipwrecked near the island (see Acts 27 - 28).
While he was on Malta Paul discovered that Publius' father was quite sick. The man was healed after the apostle prayed for and laid hands on him.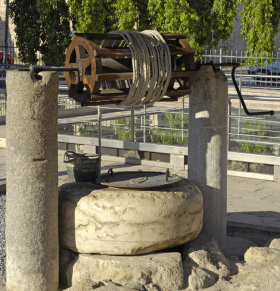 2,000 year old
Saint Paul well in Tarsus
Pudens was a Christian who sent his greetings to Timothy through the book of 2Timothy. Some commentaries speculate he may have been the husband of Claudia who is mentioned in the same verse.
Quartus was a Christian in Corinth who sent his greetings to his converted brethren in Rome in the last chapter of Romans. Nothing more is known about him.
Paul not only sent greetings to Rufus but also his mother. He also affectionately states Rufus' mother lovingly treated him like one of her sons. It is also unclear whether this Rufus was the son of Simon the Cyrenian who was forced to carry the cross on which Jesus was crucified (see Mark 15:21).
Sceva's seven sons, whose names are not recorded, are labeled "vagabond Jews" and exorcists by Luke (Acts 19:13 - 16). They foolishly, in Ephesus, attempted to cast out a demon from a man by commanding, "We adjure you by Jesus, whom Paul proclaims" (verse 13, HBFV). Their vain attempt not only failed miserably, it caused them to be physically wounded! News of the beating they received quickly spread "and fear fell upon them all, and the name of the Lord Jesus was magnified" (Acts 19:17).
Secundus, a native of Thessalonica, Sopater, who lived in Berea, and several others traveled with Paul during his third missionary journey. Secundus accompanied the apostle on the last leg of his evangelistic tour that took him through Macedonia to Asia. It is unclear if Secundus went with him on the remaining part of the trip to Tyre and ultimately Jerusalem.
Sergius Paulus was the Roman governor of Cyprus during the first missionary journey. When Paul and Barnabas were on the island, the governor requested they speak to him. Sergius became a Christian after Paul miraculously countered the evil influence of Bar-jesus upon the governor.
Sergius is noteworthy for two important milestones in the life of Paul. He is the first person recorded as being converted to Christianity through his preaching. The incident that he was involved in with Bar-jesus is also the Biblical place where Saul, the name used for the apostle up to Acts 13, changes to Paul.