Although the English used in the 1611 King James Version (KJV) Bible is "modern," many of the words it employs have a different definition today than they do when they were written. Some words are no longer used and many have changed their spelling over the years.
The definition of a word, translated in the 17th century, can at times be significantly different from the meaning we attach to it today. An example of an archaic and confusing word in the King James Bible is found in Leviticus 16.
While discussing the preparations, events, etc. for the day of Atonement the word 'scapegoat' (Leviticus 16:8,10) is used. Our modern definition of a scapegoat is a person (or group, etc.) who is unjustly blamed for the negative actions of others.
For example, a boss who is stealing from a company may try to find a scapegoat (an innocent lower-level worker) to blame the thefts on in order to avoid losing his job. This is not, however, the definition intended by the verses.
The scapegoat referenced in the King James translation actually represents Satan the devil and his part in the sins of humanity. He will be responsible for his actions in deceiving others. He is certainly not an innocent party blamed for the actions of others!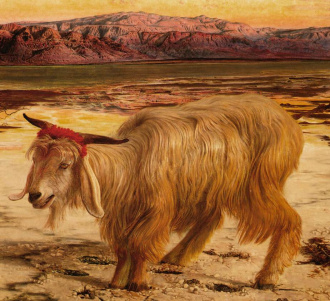 The Scapegoat
William Holman Hunt, 1854
Below, in bold, is a list of words and phrases found in the King James Bible. Directly under them is their modern English meaning and a few places the word is used.
Adoption
Sonship
Romans 8:23, 9:4, Ephesians 1:5
Affection(s)
Mind, Passions
Colossians 3:2, Galatians 5:24
Afflict your soul(s)
Fast
Leviticus 16:29, 31, 23:27, 32, Numbers 29:7, Isaiah 58:5
Apothecary
Perfumer
Exodus 30:25, 35, 37:29, Ecclesiates 10:1
Assayed
Attempted
Deuteronomy 4:34, 1Samuel 17:39, Acts 9:26, 16:7
Beguile
Judge against you
Colossians 2:4, 18
Bestowed
Stationed
1Kings 10:26
Blains
Inflammatory swelling, blisters
Exodus 9:9, 10
Bosom
Have intimate relationship
2Samuel 12:3, 8, John 1:18
Carriage
Baggage
1Samuel 17:22
Charity
Love
1Corinthians 8:1, 13:1 - 4, 8, 13, 14:1, 16:14, Colossians 3:14, etc.
Clean Heart
Right Attitude
Psalm 51:10, 73:1, Proverbs 20:9
Coast
Districts
Deuteronomy 16:4
Communicate
Share
Hebrews 13:16
Communications
Associations, Companionships
1Corinthians 15:33
Conversation
Conduct, Citizenship
Psalm 37:14, 50:23, 2Corinthians 1:12, Philippians 2:27, 1Peter 3:1, etc.
Convince
Convict
Titus 1:9, James 2:9
Coulter
Blade, disc on plough that cuts through soil
1Samuel 13:20
Covereth his feet
Going to the bathroom
Judges 3:24, 1Samuel 24:3
Creature
Creation
Romans 8:20 - 21, 2Corinthians 5:17, Galatians 6:15
Crisping pin
Bag or a Purse
Isaiah 3:22
Cross
Stake
Matthew 10:38, Mark 15:30, Luke 9:23, etc.
Cruse
Jug
1Samuel 26:11 - 12, 26:16, 1Kings 14:3, etc.
Cursed
Reviled
1Kings 2:8
Damned
Judged
Mark 16:16
Do you to wit
Make known to you
2Corinthians 8:1
Dissimulation
Hypocrisy
Galatians 2:13
Divers
Different
Matthew 24:7, Acts 19:9, Hebrews 1:1
Dividing
Expounding, Dissecting
2Timothy 2:15
Doting
Sick
1Timothy 6:4
Due Benevolence
Sexual duty within marriage
1Corinthians 7:3
Ensamples
Examples
1Corinthians 10:11
Eschewed
Avoided
Job 1:1
Faint
Give Up
Luke 18:1, Galatians 6:9
Foxes
Jackals
Judges 15:4
Froward
Evil, Wrong
Proverbs 2:12
Garnished
Set in order
Matthew 12:44
Gay
Expensive, Costly
James 2:3
Ghost (Holy Ghost)
Holy Spirit
Matthew 1:18, 20, Luke 1:15, John 1:33, etc.
Glass
Mirror
1Corinthians 13:12, James 1:23
Haply
Perhaps
Mark 11:13
Hardness
Blindness
Mark 3:5
Hasting
Desiring
2Peter 3:12
Heart
Attitude of mind
Jeremiah 17:9
Host
Camp
Judges 7:10
Husbandman
Farmer, Rancher
James 5:7
Inn
Place to Lodge
Exodus 4:24
Iniquity
Lawlessness
Matthew 24:12
Jealous
Zealous
2Corinthians 11:2
Knew
Had sex (intercourse) with
Genesis 4:1
Laud
Celebrate
Romans 15:11
Let
Hinder
Exodus 5:4
Letteth
Restrains
2Thessalonians 2:7
Listed
Chose
John 3:8
Lusteth after
Earnestly Desires
Deuteronomy 14:26
Mammon
Money, Riches, Material wealth
Matthew 6:24, Luke 16:9, 11, 13
Mansions
Offices
John 14:2
Meat
Wheat
Leviticus 2:1
Meet
Fitting, Proper
Matthew 3:8, Genesis 2:18
Melt
Dismayed
2Samuel 17:10
Mocked
Deceived
Galatians 6:7
Morning Stars
Angels
Job 38:7
Mortify
To kill
Romans 8:13
Nether
Lower or Under
Deuteronomy 24:6
Passion
Suffering
Acts 1:3
Pavilions
Booths
1Kings 20:12
Perfect
Upright, Sincere, Spiritually mature
Genesis 17:1, Job 1:1
Perform
Finish
Philippians 1:6
Person
Substance
Hebrews 1:3
Pisseth against the wall
Men, Males
2Kings 9:8, etc
Polls
One by One
Numbers 1:2
Princes
Chief Officers
1Kings 4:2
Prophesy
Inspired Preaching
1Corinthians 14
Publicans
Tax Collector
Matthew 5:46
Quick
Living
Acts 10:42
Quicken
Make Alive
Romans 8:11
Quit
Keep on
1Corinthians 16:13
Requite
Offer Support for
1Timothy 5:4
Rudiments
Elements
Colossians 2:8
Scapegoat
Goat of departure or removal (represents the devil).
Leviticus 16:8, 10, 26
Secret parts
Private parts
1Samuel 5:9
Seethe
Boil
Exodus 34:26
Servant
Slave
Philippians 2:7
Sheets
Shirts
Judges 14:13
Shoes
Sandals
Exodus 3:5
Simple
Harmless
Romans 16:19
Slept with his Fathers
Died
2Kings 13:9, 2Chronicles 16:12
Sons of God
Angels
Job 1:6
Sore
Greatly
1Samuel 17:24
Sprinkle
Astonish, Startle
Isaiah 52:15
Stranger
Newcomer, New Convert
Deuteronomy 14:29
Suffer
Let, Allow, Permit
Mark 10:14,
Revelation 11:9
Tarry
Wait
Luke 24:49, 1Corinthians 16:8
Tenor
Intent or Purpose
Exodus 34:27
Tongues
Foreign Languages
Mark 16:17, 1Corinthians 14
Tower
Secret Place
2Kings 5:24
Trow
Think
Luke 17:9
Unction
Anointing
1John 2:20
Unworthily
Irreverently
1Corinthians 11:29
Virtue
Power
Mark 5:30
Visage
Appearance
Isaiah 52:14
Whoring
Astray
Exodus 34:15
Wimples
Cloaks
Isaiah 3:22