Most people who read the Bible on a regular basis eventually collect a set of verses they find the most encouraging and comforting, especially when trials come their way. Below is a list of ten such passages we find bring us the most comfort and encouragement.
The ten encouraging Bible verses listed below are especially meaningful to us as this Web site started as an independent ministry of Barnabas Ministries. Barnabas was a first century A.D. apostle (Acts 14:14, 1Corinthians 9:5, etc.) and evangelist who worked closely with the apostle Paul. His name, in the original Greek language of the Bible, means "son of consolation" or "son of encouragement" (Acts 4:36).
The encouraging Bible verses below include bracketed words that offer additional meanings, justified by the original language, that will deepen the comfort you receive from God's word.
Promise of eternal life
And this is the witness [testimony, evidence]: that God has given us eternal [perpetual] life, and this life is in His Son (1John 5:11, HBFV)
Our first of ten encouraging Bible passages is a promise of living forever. God, through his perfect love, has provided a means through which humans can transcend the limitations of their physical lives and live forever with him in his spiritual family. This path to eternity is made possible through Jesus Christ.
God guarantees the above, and many other promises he has made, regarding man's glorious destiny through the very existence of His Son!
Promise of forgiveness and perfection
If we confess our sins, he is faithful [trustworthy] and just [righteous] and will forgive us our sins and purify [cleanse] us from all unrighteousness (1John 1:9, NIV)
Those who are willing to humble themselves and repent before God can be assured not only that their sins will be forgiven, but also that someday their human nature (with its mix of good and evil) will no longer exist. It will be replaced, when believers are changed from a flesh-based to a spirit-based existence, with the same basic righteous character as their Creator!
Promise of guidance
Trust in the Lord with all your heart, and lean not to your own understanding [knowledge, wisdom]. In all your ways acknowledge [give credit to] Him, and He shall direct [make straight] your paths [the road you travel] (Proverbs 3:5 - 6, HBFV)
It is all too easy for humans, even those who have God's spirit, to trust in or default to their own human nature in regards to life's decisions. The promise of the Bible is that if believers take their concerns to the Lord and trust in him, and give him the glory for helping them, he will point them in the right direction regarding their lives.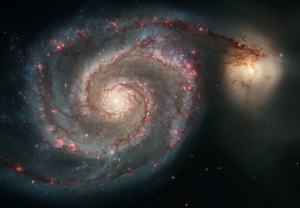 Whirlpool Galaxy (M51) and its companion
Image courtesy of Hubble Space Telescope
Promise of help in trials
No temptation [evil, adversity] has come upon you except what is common to mankind.

For God, Who is faithful [trustworthy], will not permit you to be tempted [tested, tried] beyond what you are able to bear; but with the temptation, He will make a way of escape [an exit, a way out], so that you may be able to bear [stand up under, endure] it (1Corinthians 10:13, HBFV)
Many times, when trials beset us, we may feel as if no one else has struggled with the same problems as we have. God, through Paul, assures us that whatever difficulties and struggles come our way that they are by no means unique. The Bible promises believers that their heavenly Father, who watches over them, will give them the wisdom and strength they need to endure whatever comes their way.
Promise of perfect reconciliation
Consequently, there is now no condemnation [verdict against] to those who are in Christ Jesus, who are not walking according to the flesh [human nature], but according to the Spirit [God's way of life] (Romans 8:1, HBFV)
Those who walk with God (meaning that they strive to think and act as he does) are promised they will never be condemned before him.
Nothing can separate us from God
For I am persuaded that neither death, nor life, nor angels, nor principalities, nor powers, nor things present, nor things to come, nor height, nor depth, nor any other created thing, shall be able to separate us from the love of God, which is in Christ Jesus our Lord (Romans 8:38 - 39, HBFV)
Even though some circumstances we may find ourselves in may lead us to doubt his presence in our lives, our Father promises that nothing can come between him and his children! Even Satan and all his demonic hoards, according to the Scriptures, cannot separate us from God.
Promise of power to overcome
I can do all things through Christ, Who empowers [strengthens] me (Philippians 4:13, HBFV)
The end of loss
And I heard a great voice from heaven say, "Behold, the tabernacle of God is with men; and He shall dwell [encamp, reside] with them, and they shall be His people; and God Himself shall be with them . . .

And God shall wipe away [obliterate, erase, blot out] every tear from their eyes; and there shall not be any more death, or sorrow [mourning, grief], or crying; neither shall there be any more pain [anguish], because the former things have passed away" (Revelation 21:3 - 4, HBFV)
The tremendous power and hope of this eighth of ten encouraging Bible passages makes it one of the most often recited verses in eulogies or at a gravesite when a loved one is being buried.
God's personal promise is that all the sadness and loss experienced by humans will someday end forever. He allowed such things to occur to teach humans valuable lessons, chief of which is that the devil's self-centered way of life never works and that his selfless way of love always does!
Those who choose to live God's way and allow him to instill righteous character within them, in spite of trials and troubles, will someday be able to experience perfect happiness and harmony with their Creator and all that will exist.
Promise of a great reward
And many of those who sleep in the dust of the earth shall awake, some to everlasting life . . .

And they who are wise shall shine [gleam] as the brightness of the firmament [heavens], and they who turn many to righteousness shall shine as the stars forever [eternally, perpetually] and ever (Daniel 12:2 - 3, HBFV)
There are many people around the world who do their best to spread the truth of the Bible wherever they can. Their efforts usually receive little, if any, praise or recognition. God, however, knows all the works of his saints and will never forget their labors. It is encouraging to know that there will come a day when those who served the Eternal in this life are richly rewarded in the next!
Promise of a happy ending
And we know that all things work together for good [benefit] to those who love God, to those who are called [invited, appointed] according to His purpose (Romans 8:28, HBFV)