To know wisdom and instruction; to perceive the words of understanding; To receive the instruction of wisdom,
justice, and judgment
, and equity; (Proverbs 1:1, 3).
If thou seest the oppression of the poor, and violent perverting of judgment and justice in a province, marvel not at the matter . . . (Ecclesiastes 5:8).
To do justice and judgment is more acceptable to the Lord than sacrifice (Proverbs 21:3).
I, wisdom, dwell with prudence, and find out knowledge and discretion . . . I am understanding; I have strength. By me kings reign and princes decree justice (Proverbs 8:12, 14 - 15).
He lays up sound wisdom for the righteous; He is a shield to those who walk uprightly. He keeps the paths of right judgment and preserves the way of His saints (Proverbs 2:7- 8).
A king who sits in the throne of judgment scatters away all evil with his eyes (Proverbs 20:8).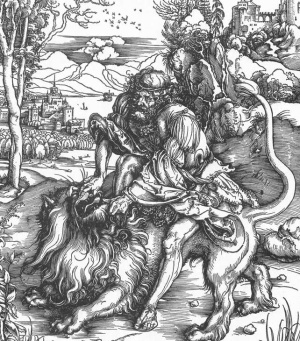 Samson killing lion
Albrecht Durer, c. 1498
Also, to punish the righteous is not good, nor to strike princes for their uprightness (Proverbs 17:26).
It is not good to show partiality to the wicked, or to overthrow the righteous in judgment (Proverbs 18:5).
He who answers a matter before he hears it, it is folly and shame to him (Proverbs 18:13).
The first one to plead his cause seems right, until his neighbor comes and examines him (Proverbs 18:17).
Dishonest scales are an abomination to the Lord, but a just weight is His delight (Proverbs 11:1).
It is honorable for a man to stop striving, since any fool can start a quarrel (Proverbs 20:3).
World's Wit and Wisdom
He that would govern
others, first should be the
master of himself.
Philip Massinger, 1583 - 1640
Crafty men deal
in generalizations.
Anonymous
The righteous man walks in his integrity; His children are blessed after him (Proverbs 20:7).
Much food is in the tillage of the poor: but there is that is destroyed for want of judgment (Proverbs 13:23).
And again I saw under the sun the place of judgment, that wickedness was there; and in the place of righteousness, that wickedness was there (Ecclesiastes 3:16).
He who keeps his command will experience nothing harmful; And a wise man's heart discerns both time and judgment, because for every matter there is a time and judgment, though the misery of man increases greatly (Ecclesiastes 8:5 - 6).
Rejoice, O young man, in your youth, and let your heart cheer you in the days of your youth; Walk in the ways of your heart, and in the sight of your eyes; But know that for all these God will bring you into judgment (Ecclesiastes 11:9).
World's Wit and Wisdom
Those that have done nothing
in life, are not qualified to
judge those that have done little.
Samuel Johnson, 1709 - 1784
Almost all our faults are
more pardonable than the
methods we resort to hide them.
Francois Rochefoucauld, 1613 - 1680
For God will bring every work into judgment, including every secret thing, whether good or evil (Ecclesiastes 12:14).
Honest weights and scales are the Lord's; All the weights in the bag are His work (Proverbs 16:11).
Diverse weights and diverse measures, they are both alike, an abomination to the Lord (Proverbs 20:10).
The violence of the wicked will destroy them, because they refuse to do justice (Proverbs 21:7).
If you refuse to listen to the cry of the poor, your own cry for help will not be heard (Proverbs 21:13).
When justice is done, good people are happy, but evil people are brought to despair (Proverbs 21:15).
Do not remove the ancient landmark which your fathers have set (Proverbs 22:28).
Do not remove the ancient landmark, nor enter the fields of the fatherless; For their Redeemer is mighty; He will plead their cause against you (Proverbs 23:10 - 11).
Prejudice is wrong. But some judges will do wrong to get even the smallest bribe (Proverbs 28:21).
The king establishes the land by justice, but he who takes bribes tears it down (Proverbs 29:4).
The king who judges the poor with truth, His throne will be established forever (Proverbs 29:14).
Open your mouth for the speechless, in the cause of all who are appointed to die. Open your mouth, judge righteously, and plead the cause of the poor and needy (Proverbs 31:8 - 9).
Many seek the ruler's favor, but justice for man comes from the Lord (Proverbs 29:26).
The lot is cast into the lap, but its every decision is from the Lord (Proverbs 16:33).
A wicked man taketh a gift out of the bosom to pervert the ways of judgment (Proverbs 17:23).
These things also are for the wise: To have respect of persons in judgment is not good. He who says to the wicked, "You are righteous," the people shall curse him and nations shall abhor him (Proverbs 24:23 - 24).