This timeline covers the life and ministry of Jesus from late 29 A.D. to the end of the year. Other timelines in this series are listed at
the bottom of this article
.
The Lord, in late 29 A.D., will make the long journey from Capernaum to Jerusalem in order to attend the Hanukkah (Festival of Lights) celebration that starts at sunset on December 18.
After attending Jerusalem's Feast of Tabernacles, which ended at sunset on October 18, Jesus stays around the city for a short period. He then makes the long journey, with his disciples, back to his home in Capernaum.
Peter, who with the rest of the disciples is also in Capernaum several weeks before Hanukkah, is approached and asked if Jesus was going to pay the yearly temple tax (Matthew 17:24 - 27). The tax, which was voluntary in the first century and justified by Exodus 30:11 - 16, was requested of every Israelite male twenty years old or older. The tax was half a shekel per male and was used to support the service and maintenance of Jerusalem's temple.
Peter, after he informs Jesus of the request, is told to cast his fishing line into the Sea of Galilee (also called Tiberias). Christ then stated that the first fish he pulled up would have a coin in its mouth in the exact amount to pay both his and Peter's tax bill! Peter did what he was told and was able to offer the tribute money.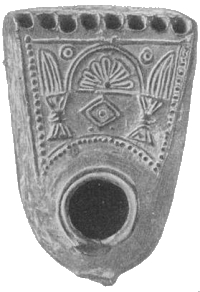 Hanukkah lamp found near
Jerusalem around 1900 A.D.
After the miracle of the fish, the disciples soon begin to dispute among themselves who will be the greatest in God's kingdom. They soon learn that only those who have the spiritual attitude of a child will enter eternal life (Matthew 18:1 - 5, Mark 9:33 - 37, Luke 9:46 - 48). A man is also allowed to continue to perform healings even though he is not one of the disciples (Mark 9:38 - 41, Luke 9:49 - 50).
Jesus, while still in Capernaum, warns his disciples about offending those who are spiritually "little children" and tells them about God's loving concern for even one person (Matthew 18:6 - 14, Mark 9:42 - 50). He additionally instructs them on how to resolve difficulties between people (Matthew 18:15 - 17) and gives Christians authority to make binding decisions regarding disputes (verses 18 - 20).
After commanding that believers should offer unlimited forgiveness to others (verses 21 - 22), Christ gives the parable of the unforgiving servant (verses 23 - 35). He then makes plan for attending the Hanukkah celebration in Jerusalem.
To Jerusalem for Hanukkah
Jesus and the disciples leave Capernaum and the Galilee region for Samaria. Their ultimate destination is Jerusalem for the Feast of Dedication (also called Festival of Lights or Hanukkah) which occurs in late December (Luke 9:51, John 10:22). James and John, as the group travels through Samaria, are rebuked for wanting to destroy a Samaritan village because of their rejection of the Lord (Luke 9:51 - 56, Matthew 19:1 - 2, Mark 10:1).
While still traveling in order to keep Hanukkah in the city of David, seventy of the disciples are sent to prepare the way for Christ in cities he will soon visit (Luke 10:1 - 24). After they return, the famous Good Samaritan parable (verses 25 - 37) is given.
Jesus and the disciples, at a location Scripture does not delineate, soon cross over to the eastern side of the Jordan River or Perea on their way to Jerusalem (Matthew 19:1, Mark 10:1). The group eventually arrives in Bethany (verses 38 - 42) where Jesus is a dinner guest of Mary and Martha.
Jesus promises, after teaching the disciples how to pray, that the Father will give the Holy Spirit to those who ask (Luke 11:1 - 13). He then casts a demon out of a man only to be accused that He has one (verses 14 - 26)!
The multitudes who hear the Lord speak learn that the only sign that will be given that he is the Messiah is the sign of Jonah (Luke 11:29 - 32), meaning he will be in the grave for three full days and nights. He is soon invited to a Pharisees' house for a meal (verse 37). During the meal, Jesus warns the religious leaders in attendance about their vanity, pettiness and other sins (verses 37 - 52).
A large crowd, which gathered outside the home where Jesus had a meal, is warned by him to be wary of the hypocrisy of religious leaders (Luke 12:1 - 3). They are also taught about the unpardonable sin, that life is more than possessions, and that the highest priority one can have is seeking God's kingdom (verses 1 - 34). After additional teachings, the parable of the unfruitful fig tree is given (Luke 13:6 - 9).
Later, at a time unspecified in the Bible, Jesus teaches in a synagogue. He mercifully heals a woman who had been physically bent over for eighteen years. The ruler of the synagogue receives a stinging rebuke after chastising Christ for healing on the Sabbath (Luke 13:10 - 17). Following this event the parables of the mustard seed and the hidden leaven (verses 18 - 21) are given.
Shortly before Hanukkah, someone approaches Jesus wondering how many people God will ultimately save. In response, he gives a parable about a narrow gate and warns that salvation cannot be received simply by knowing who he is and what he teaches (Luke 13:23 - 30). Later, he informs the Pharisees that not only will his life be taken in Jerusalem, the city and it magnificent temple will soon be attacked and destroyed (verses 31 - 35).
Jesus attends the Festival of Dedication (Hanukkah, also known as the Festival of Lights) in Jerusalem that runs from sunset December 18 to sunset on the 26th (John 10:22 - 39). During the celebration, after stating he and God the Father were "one," the Jews take up stones to kill him for blasphemy.
The Jews fully understood that any individual claiming they were "one" with God, or stating that He was their Father (see John 5:18), meant that they were making themselves equal with the Eternal. Such declarations, in their minds, was the highest blasphemy and worthy of the death penalty even if it was during Hanukkah! This is one of the rare times the Jews acted on their hatred of Jesus and his message to the point of attempting to immediately kill him (see Luke 4:25 - 30).
After Jesus escapes being killed in Jerusalem during Hanukkah, he leaves for the eastern side of the Jordan River. His ultimate destination is Galilee, and in particular Capernaum, where he will stay a short time before he will be powerfully moved to fulfill his destiny in Jerusalem.