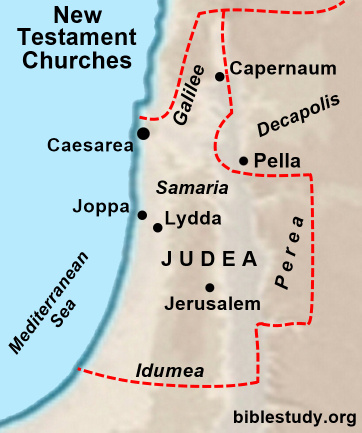 Jerusalem
It was King David who attacked the city of Jebus, conquered it, renamed it Jerusalem, and made it his capital (1Chronicles 11:4 - 7). From this time forward Jerusalem would also be known as the city of David.
Scripture records and hints at several groups of believers or churches met in Jerusalem, in private homes, to worship God and encourage one another in the faith. After the day of Pentecost groups of believers met in homes to eat and thank the Eternal for all He had done (Acts 2:46 - 47). Even though the apostles were arrested in the city by religious leaders, beaten, and told not to preach Christ, they still spread the gospel in every house they visited (Acts 5:40 - 42).
Saul, before he became apostle Paul, persecuted believers in Jerusalem by entering houses Christians used as gathering places and dragging them off to prison (Acts 8:3). Peter, after he was miraculously freed from Herod's prison, went directly to the home of John Mark's mother where believers were gathered to pray for him (Acts 12:12).
Lydda
Called Lod in the Old Testament (1Chronicles 8:12), Lydda is mentioned only a few times in Scripture. It is the place where Peter, while visiting believers living in the area, healed a bed-ridden handicapped man named Aeneas (Acts 9:32 - 34). It was after this miraculous event that many more in the city and the surrounding plain of Saron became Christians (verse 35).
It was in Lydda that Peter was asked, by two Christians who came from Joppa, to visit the city and the home of Dorcas (Acts 9:36 - 38). The result of his visit was the miraculous raising from the dead of this generous lady.