This is the second of our five part series on conspiracies in the Bible! This article discusses the imaginary acts of treachery that affected the reign of Israel's first human ruler King Saul. We will also delve into the forgotten rule of Ishbosheth, one of Saul's sons, who maintained a rival throne to King David's for a short period. Other installments in this series are listed at
the bottom of this article.
The paranoid monarch
King Saul, as David grows in popularity within Israel (1Samuel 18:5 - 9), begins nursing an obsessive paranoid hatred of him. He not only attempts to privately murder him (1Samuel 18:10 - 11, 19:1) but also to publically pursue him and take his life (1Samuel 19). His paranoia expands when he begins to accuse his own tribe, and even his own son, of conspiracies against him!
Now hear, Benjamites, will the son of Jesse (David) give to any of you fields and vineyards . . . But all of you have conspired against me, and none of you was revealing in my ear when my son (Jonathan) made a covenant with the son of Jesse. And not one of you is sorry for me . . . (1Samuel 22:7 - 8, HBFV throughout).
Soon after Saul indulges in his pity party, he proceeds to accuse, wrongly, the High Priest of conspiring against him. Ahimelech's merciful act of feeding an incredibly hungry David and giving him back Goliath's sword (1Samuel 21:1 - 9) is viewed by the king as treason.
Why have you (Ahimelech) conspired against me, you and the son of Jesse, in that you have given him bread and a sword, and have asked of God for him, that he should rise against me to lie in wait, as at this day? (1Samuel 22:13).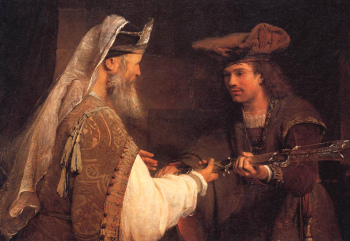 Ahimelech Giving Goliath's Sword to David
Aert de Gelder, 1680s A.D.
Ahimelech's truthful answer regarding David's faithful service to Saul fails to sway the king.
And Ahimelech answered the king and said, "And who is so faithful among all your servants as David, who is the king's son-in-law and who goes at your bidding, and who is honorable in your house? . . ." (1Samuel 22:14).
In a fit of uncontrollable madness, Saul orders the High Priest and the priests with him to be killed. Though the Israelites with him refuse to carry out his order, a foreign-born soldier (an Edomite named Doeg) murders the eighty-five priests in attendance (verse 18). Doeg then proceeds to zealously kill all the people, including children, and even animals, in the priestly city of Nob (verse 19)!
The forgotten king
David, even after King Saul's death in 1010 B.C., did not immediately ascend to the throne over all Israel. Although he was crowned king over the tribe of Judah (2Samuel 2:1 - 4), one of Saul's sons kept him from ruling over all of God's people for more than seven years.
After Saul's death, the head of his army, Abner, conspires to make Ishbosheth, one of his surviving sons, the successor to his father's throne.
But Abner the son of Ner, commander of Saul's army, took Ishbosheth the son of Saul, and brought him over to Mahanaim. And he made him king over Gilead, and over the Ashurites, and over Jezreel, and over Ephraim, and over Benjamin, and over all Israel (2Samuel 2:8 - 9).
God's word suggests that Abner took roughly five to five and one-half years to establish Ishbosheth's rival throne in Mahanaim. Once established, the forty year old Ishbosheth reigns for only two years (2Samuel 8:10).
Ishbosheth is killed when, after Abner's death, two of Saul's former army captains successfully carry out their conspiracy to murder him in his bed (2Samuel 4:1 - 7). David, who had ruled only Judah for seven and one-half years, is then made king over all Israel and reigns for the next thirty-three years (2Samuel 5:4 - 5).