Ephesus
Apostle Paul's Missionary Journeys
Submit Bible questions, through our easy to use form,
to our team of mature Christians known as the Email Evangelists.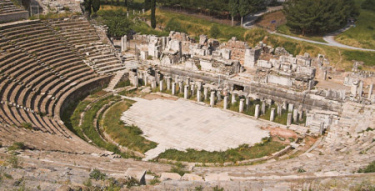 The above great theater of Ephesus was started under Lysimachus in the third century B.C. It could hold twenty-five thousands spectators and was the largest outdoor theatre in the ancient world. It exhibited fights between wild beasts and between beasts and men.
Ephesus was the capital and premier city of Asia Minor's western region (known as proconsular Asia). It was the Athenians who initially colonized the city. It was famous for possessing a Temple dedicated to a pagan goddess named Diana. Her shine in Ephesus is considered one of the seven wonders of the ancient world. For many years during the Roman period the city was considered the second largest populated area of the Roman Empire (the largest being the empire's capital city of Rome). In the first century B.C. the city had a population of more than 250,000, making it the second largest city in the WORLD.
The Apostle Paul, after staying in Corinth for a year and a half, travels to Ephesus in the spring of 52 A.D. The journey to the city, with friends Priscilla and Aquila, is considered part of what is called Paul's second evangelistic or missionary journey. Shortly after arriving in the city Paul runs across some believers who, though baptized to repentance by John the Baptist, never received or even knew about God's spirit. He rectifies the situation by rebaptizing the twelve men and laying hands of them in order for them to finally receive the spirit. (Acts 19). Although he likely starts the first Christian church in the city Paul stays in Ephesus only a few months.
During his third evangelistic journey the Apostle Paul returned to Ephesus where he resided in and evangelized the city for almost 3 1/2 years. The city's church is the first of seven in Asia Minor given a spiritual evaluation directly from God.