Picture of Noah's Ark
Submit your questions, through our easy to use form,
to our team of mature Christians known as the Email Evangelists!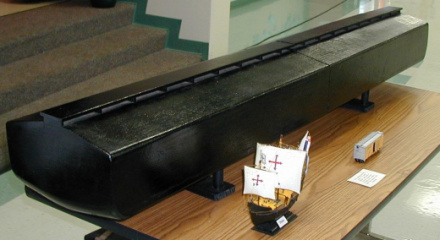 "And this is how you shall make it: The length of the ark shall be three hundred cubits, its width fifty cubits, and its height thirty cubits. You shall make a window for the ark, and you shall finish it to a cubit from above; and set the door . . . You shall make it with lower, second, and third decks. " (Genesis 6, NKJV)
The replica of Noah's ark shown above is 1/75 scale. For comparison purposes, both the railroad stockcar and model of the sailing ship Pinta (one of Columbus' ships) are also at the same 1/75 scale model size. The full-size version of the railroad stockcar model shown in the picture is 44 feet long and has a capacity of 2,670 cubic ft. The ark's volume was 1,518,000 cubic ft., which is equal to 569 railroad stockcars. Strung together these stockcars would make a train five and one-half miles long!
Although no one knows the exact length of the Biblical cubit used for Noah's ship, the above model is based upon the ratio of one cubit equaling 18 inches. If a larger cubit of 20 or 24 inches would have been used the model would have been proportionally larger.
How much space would the animals on Noah's ark need? Most animals are not very large. One railroad stock car (like the one in the picture) can carry about 240 sheep and has a total capacity of 2670 cubic feet. (78.15 cubic meters). This would mean that 40,000 animals could fit in 167 railroad cars. The total capacity of the ship God had built was 569 stock cars, which means it was highly likely that only a fraction of its space, which spanned three decks, was actually needed to carry them. This left around 70% of the total space for Noah and his family, food, supplies, baggage, tools, etc.