Achaia
Bible Meaning: Grief, trouble
Strong's Concordance #G882
Achaia, originally a part of the Roman province of Macedonia, was separated into its own senatorial province in 27 B.C. It was generally a wealthy and peaceful part of the Roman Empire whose capital city was Corinth. Well-known cities within its territory included Athens, Sparta and the port town of Cenchrea.
Achaia was one of a few provinces (the others being Asia, Galatia, Macedonia and Syria) the Apostle Paul focused most of his evangelistic efforts. He visited it extensively during his second and third missionary journeys.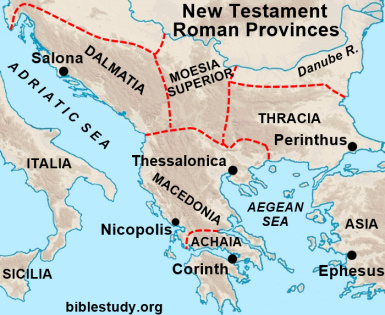 Important verses
1Corinthians 16:15
I beseech you, brethren, (ye know the house of Stephanas, that it is the firstfruits of Achaia, and that they have addicted themselves to the ministry of the saints,)
2Corinthians 1:1
Paul, an apostle of Jesus Christ by the will of God, and Timothy our brother, unto the church of God which is at Corinth, with all the saints which are in all Achaia:
2Corinthians 9:2
For I know the forwardness of your mind, for which I boast of you to them of Macedonia, that Achaia was ready a year ago: and your zeal hath provoked very many.
2Corinthians 11:10
As the truth of Christ is in me, no man shall stop me of this boasting in the regions of Achaia.
1Thessalonians 1:7 - 8
So that ye were ensamples to all that believe in Macedonia and Achaia. For from you sounded out the word of the Lord not only in Macedonia and Achaia, but also in every place your faith to God-ward is spread abroad: so that we need not to speak any thing.
Further Bible study: