Assos
Bible Meaning: Approaching
Strong's Concordance #G789
Assos is a seaport city located in the northwestern corner of the province of Asia in a region called Mysia.
During his third missionary journey, the Apostle Paul walked from Troas to Assos where he met with the rest of his traveling companions. He likely walked, instead of sailing, to the city in order to spend more time with the brethren (it is quicker to walk than sail). The group, together in the port, then board a ship and sail down to Mitylene.
Important verses
Acts 20:6, 13 - 15
And we sailed away from Philippi after the days of unleavened bread, and came unto them to Troas in five days; where we abode seven days . . .
And we went before to ship, and sailed unto Assos, there intending to take in Paul: for so had he appointed, minding himself to go afoot.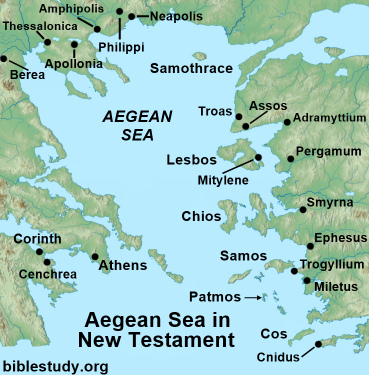 Location of Assos
And when he met with us at Assos, we took him in, and came to Mitylene.
And we sailed thence, and came the next day over against Chios; and the next day we arrived at Samos, and tarried at Trogyllium; and the next day we came to Miletus.
Additional Studies