Bethlehem
Bible Meaning: House of bread
Strong's Concordance #H1035, #G965
Bethlehem in Judea is also referenced as Bethlehem Ephratah (Ephrathah) in Micah 5:2, Ephrath (Genesis 35:19, 48:7) or Ephratah (Ruth 4:11) in the Bible. A city with the same name also existed within Zebulun's borders (Joshua 19:10 - 15).
Tradition has Rachel, the much beloved wife of Jacob, buried near the northern entrance of modern city (Genesis 35:15). The events of the book of Ruth, one of only two Biblical books penned by women, also take place near Bethlehem (Ruth 1:1 - 2).
Ibzan was a Judge of Israel from 1081 to 1074 B.C. Although he grew up and was buried in Bethlehem, Biblical commentaries are split between whether it references the city in Judah's or Zebulun's territory (Judges 12:10).
David was not only born in the city he was also anointed king by Samuel within its gates (1Samuel 16). Later in his life, three of David's mightiest warriors risked their lives for him when they daringly retrieved water for him from the city's well (2Samuel 23:13 - 17).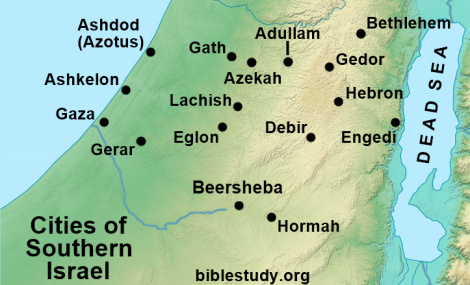 Joseph, Jesus' stepfather, traced his legal lineage all the way back to King David and Bethlehem (Matthew 1). Mary's lineage, by blood, also traces back to the city (Luke 3). Jesus' birth in the city, in the fall of 5 B.C., was precipitated out of Rome's desire to collect as much taxes as possible.
Important verses
Genesis 35:19
And Rachel died, and was buried in the way to Ephrath, which is Bethlehem.
Ruth 4:9 - 11
And Boaz said unto the elders, and unto all the people, Ye are witnesses this day, that I have bought all that was Elimelech's, and all that was Chilion's and Mahlon's, of the hand of Naomi. Moreover Ruth the Moabitess, the wife of Mahlon, have I purchased to be my wife,
And all the people that were in the gate, and the elders, said, We are witnesses. The Lord make the woman that is come into thine house like Rachel and like Leah, which two did build the house of Israel: and do thou worthily in Ephratah, and be famous in Bethlehem.
2Samuel 23:15 - 16
And David longed, and said, Oh that one would give me drink of the water of the well of Bethlehem, which is by the gate!
And the three mighty men brake through the host of the Philistines, and drew water out of the well of Bethlehem, that was by the gate, and took it, and brought it to David: nevertheless he would not drink thereof, but poured it out unto the Lord.
Micah 5:2
But thou, Bethlehem Ephratah, though thou be little among the thousands of Judah, yet out of thee shall he come forth unto me that is to be ruler in Israel: whose goings forth have been from of old, from everlasting.
Matthew 2:12, 16
And being warned of God in a dream that they should not return to Herod, they (the Magi) departed into their own country another way . . .
Then Herod, when he saw that he was mocked of the wise men, was exceeding wroth, and sent forth, and slew all the children that were in Bethlehem, and in all the coasts thereof, from two years old and under, according to the time which he had diligently enquired of the wise men.
Luke 2:4
And Joseph also went up from Galilee, out of the city of Nazareth, into Judaea, unto the city of David, which is called Bethlehem: (because he was of the house and lineage of David)
Luke 2:13 - 15
And suddenly there was with the angel a multitude of the heavenly host praising God, and saying, Glory to God in the highest, and on earth peace, good will toward men.
And it came to pass, as the angels were gone away from them into heaven, the shepherds said one to another, Let us now go even unto Bethlehem, and see this thing which is come to pass, which the Lord hath made known unto us.
Additional Studies