Bethphage
Bible Meaning: House of unripe figs, fig house
Strong's Concordance #G967
Bethphage was a small village between Jerusalem and Bethany.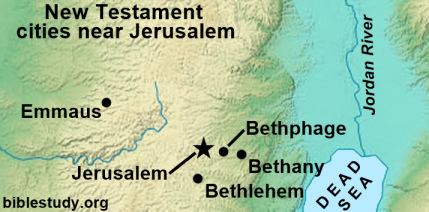 Jesus travels, on the last Thursday of his life (March 30 in 30 A.D.), from Bethany to Bethphage. Arriving in the village, he mounts a colt and makes what is called his triumphal entry into Jerusalem. His act is the fulfillment of an important 540+ year old Biblical prophecy given by the Minor Prophet Zechariah (Zechariah 9:9, Mark 11).
Important verses
Matthew 21:1
And when they drew nigh unto Jerusalem, and were come to Bethphage, unto the mount of Olives, then sent Jesus two disciples
Mark 11:1 - 3
And when they came nigh to Jerusalem, unto Bethphage and Bethany, at the mount of Olives, he sendeth forth two of his disciples,
And saith unto them, Go your way into the village over against you: and as soon as ye be entered into it, ye shall find a colt tied, whereon never man sat; loose him, and bring him.
And if any man say unto you, Why do ye this? say ye that the Lord hath need of him; and straightway he will send him hither.
Luke 19:29
And it came to pass, when he was come nigh to Bethphage and Bethany, at the mount called the mount of Olives, he sent two of his disciples
Further Bible study: