Caesarea Philippi
Bible Meaning: Severed lover of horses
Strong's Concordance #G2542, #G5376
Caesarea Philippi is located northeast of the city of Dan. It is not far from the slopes of Mount Hermon and the source of the Jordan River. After Herod the Great's death his son Philip (the Tetrarch), who is given rule over territory containing the city of Paneas, rebuilds and renames it Caesarea Philippi in honor of Tiberias Caesar and himself.
Caesarea Philippi is noteworthy for several reasons. It is the most northerly formerly Israelite city Jesus visited during his ministry. It is also where, for the first time, one of Christ's closest disciples openly confessed he was the Messiah.
Additionally, it was during his visit to this Caesarea that Jesus, for the first time, openly spoke about his impending arrest, death and resurrection. He also declared, for the first time during his ministry, that he would build his church that would never cease to exist.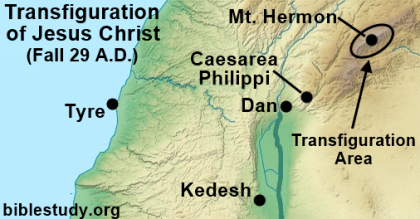 Location of Caesarea Philippi
Displaying His Glory
Christ's transfiguration, six days after the above events (Matthew 17, Mark 9), is stated to have taken place on a high mountain (Matthew 17:1, Mark 9:2). The most likely location where this awesome display of power took place was not that far from Caesarea Philippi. The area at or near Mount Hermon would have been an excellent backdrop for the Lord to reveal his glorified form to James, Peter and John.
Important Verses
Matthew 16:13, 15 - 16, 18, 21
When Jesus came into the coasts of Caesarea Philippi, he asked his disciples, saying, Whom do men say that I the Son of man am? . . .
He saith unto them, But whom say ye that I am? And Simon Peter answered and said, Thou art the Christ, the Son of the living God . . .
And I say also unto thee, That thou art Peter, and upon this rock (Jesus' teachings) I will build my church; and the gates of hell shall not prevail against it . . .
From that time forth began Jesus to shew unto his disciples, how that he must go unto Jerusalem, and suffer many things of the elders and chief priests and scribes, and be killed, and be raised again the third day.
Matthew 17:1 - 2
And after six days Jesus taketh Peter, James, and John his brother, and bringeth them up into an high mountain apart, and was transfigured before them: and his face did shine as the sun, and his raiment was white as the light . . .
Additional Studies