Capernaum
Bible Meaning: Village of comfort
Strong's Concordance #G2584
The city of Capernaum, recorded only in the Gospel accounts, is located on the northwestern shore of the Sea of Galilee. During the New Testament period, it was one of Galilee's economic centers.
Jesus, near the beginning of his public ministry, left Nazareth and made Capernaum his primary residence (Matthew 4:13 - 17) during his entire ministry. This move fulfilled a prophecy given by the prophet Isaiah (Isaiah 9:1 - 2).
The city and its surrounding area witnessed many of Christ's mighty miracles. These include the casting out of a demon from someone who attended church (Luke 4:33 - 35) and the healing of a Roman Centurion's servant simply by commanded it (Matthew 8:5 - 13)! The Lord also performed one of his three known resurrections from the dead when he brought back to life the young daughter of a synagogue ruler (Matthew 9:23 - 25).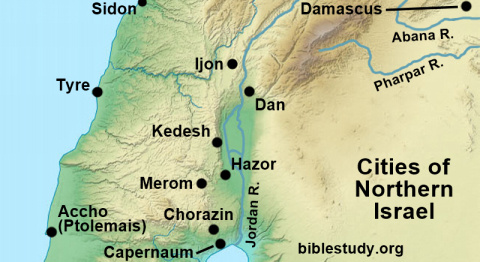 According to Holman's Bible Dictionary, second century A.D. Talmudic sources refer to the city as the home of Jewish heretics (Minim). These heretics are generally believed to have been Jewish (Messianic) Christians.
Important Verses
Matthew 4:13
And leaving Nazareth, he came and dwelt in Capernaum, which is upon the sea coast, in the borders of Zabulon and Nephthalim
Matthew 11:20 - 21, 23
Then began he to upbraid the cities wherein most of his mighty works were done, because they repented not:
Woe unto thee, Chorazin! woe unto thee, Bethsaida! for if the mighty works, which were done in you, had been done in Tyre and Sidon, they would have repented long ago in sackcloth and ashes . . .
And thou, Capernaum, which art exalted unto heaven, shalt be brought down to hell: for if the mighty works, which have been done in thee, had been done in Sodom, it would have remained until this day.
Matthew 17:24
And when they were come to Capernaum, they that received tribute money came to Peter, and said, Doth not your master pay tribute?
Mark 9:33
And he came to Capernaum: and being in the house he asked them, What was it that ye disputed among yourselves by the way?
Luke 4:16, 23
And he came to Nazareth, where he had been brought up: and, as his custom was, he went into the synagogue on the sabbath day, and stood up for to read . . .
And he said unto them, Ye will surely say unto me this proverb, Physician, heal thyself: whatsoever we have heard done in Capernaum, do also here in thy country.
John 2:11 - 12
This beginning of miracles did Jesus in Cana of Galilee, and manifested forth his glory; and his disciples believed on him.
After this he went down to Capernaum, he, and his mother, and his brethren, and his disciples: and they continued there not many days.
John 6:16 - 17
And when even was now come, his disciples went down unto the sea, and entered into a ship, and went over the sea toward Capernaum. And it was now dark, and Jesus was not come to them.
John 6:52 - 53, 59
The Jews therefore strove among themselves, saying, How can this man give us his flesh to eat?
Then Jesus said unto them, Verily, verily, I say unto you, Except ye eat the flesh of the Son of man, and drink his blood, ye have no life in you . . .
These things said he in the synagogue, as he taught in Capernaum.
Additional Studies