Corinth (Corinthians)
Bible Meaning: Satiated
Strong's Concordance #G2882
Corinth (the recipents of two Biblical letters from Paul sent to the Corinthians) was located on the opposite side of the isthmus, in relation to Cenchrea, that connected the Peloponnesus to the mainland of Greece. Considered part of the Roman province of Achaia, it was one of the four provinces the Apostle Paul expended most of his evangelistic efforts.
Ironically, although Corinth was ancient in the first century A.D., it was quite new. The Romans, in 146 B.C., burned the city to the ground, killed all the city's males and sold both women and children into slavery. Julius Caesar, a century later, completely rebuilt the city. It subsequently grew so rapidly that it quickly became an important economic area in the Empire and the seat of government for the province (see Acts 18:12 - 16). The area was also known for its unique Corinthian columns.
A hub of Christians
Corinth, along with Jerusalem, Syrian Antioch and Ephesus, was one of the few prominent centers of early Christianity. It also one of the few cities Paul stayed in for an extended period (the others being Caesarea and Rome (as a prisoner), Syrian Antioch, Ephesus and Tarsus).
Corinth boasted several house churches. A group of Christians met in the home of Justus, whose residence was right next to a local Jewish synagogue (Acts 18:7). Those who also hosted brethren in their home were Chloe (1Corinthians 1:11) and Gaius (Romans 16:23), who was one of only a very few people personally baptized by Paul (1Cor. 1:14). A home fellowship may have also been hosted by a man named Crispus (1Cor. 1:14).
The Apostle Paul visited and evangelized the city during his second and third missionary journeys.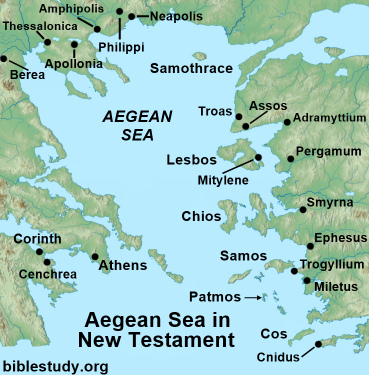 Important verses
Acts 18:1 - 2
After these things Paul departed from Athens, and came to Corinth.
And found a certain Jew named Aquila, born in Pontus, lately come from Italy, with his wife Priscilla; (because that Claudius had commanded all Jews to depart from Rome:) and came unto them.
Acts 19:1 - 2
And it came to pass, that, while Apollos was at Corinth, Paul having passed through the upper coasts came to Ephesus: and finding certain disciples,
He said unto them, Have ye received the Holy Ghost (Spirit) since ye believed? And they said unto him, We have not so much as heard whether there be any Holy Ghost (Spirit).
1 Corinthians 1:1 - 3
Paul, called to be an apostle of Jesus Christ through the will of God, and Sosthenes our brother,
Unto the church of God which is at Corinth, to them that are sanctified in Christ Jesus, called to be saints, with all that in every place call upon the name of Jesus Christ our Lord, both theirs and ours:
Grace be unto you, and peace, from God our Father, and from the Lord Jesus Christ.
2Corinthians 1:1 - 2
Paul, an apostle of Jesus Christ by the will of God, and Timothy our brother, unto the church of God which is at Corinth, with all the saints which are in all Achaia:
Grace be to you and peace from God our Father, and from the Lord Jesus Christ.
2 Corinthians 1:23 - 24
Moreover I call God for a record upon my soul, that to spare you I came not as yet unto Corinth. Not for that we have dominion over your faith, but are helpers of your joy: for by faith ye stand.
2Timothy 4:19 - 20
Salute Prisca and Aquila, and the household of Onesiphorus. Erastus abode at Corinth: but Trophimus have I left at Miletum sick.
Additional Studies