Dalmatia
Bible Meaning: A priestly robe
Strong's Concordance #G1149
Dalmatia (Illyricum) is the name of a Roman province located on the coast of the Adriatic Sea just north of Greece.
Rome, in 10 A.D., split the province of Illyricum (which means "the lyric band," Strong's #G2437) into two provincial areas. These new sections were called Pannonia in the north and Dalmatia - Illyria in the south. The New Testament reference to Illyricum and Dalmatia are discussing the same area.
The Apostle Paul, writing to the Romans in 57 A.D., mentions that he had zealously preached the gospel from Jerusalem all the way to Illyricum (Dalmatia). Unfortunately, he never reveals more details about his evangelism in the province.
Paul also references Dalmatia in his last epistle, 2Timothy, written in 67 A.D. He first laments that Demas, who was with him during his first imprisonment in Rome (Colossians 4:14), rejected him and went to Thessalonica. He then mentions sending Titus to the province.
Important Verses
Romans 15:15 - 19
Nevertheless, brethren, I have written the more boldly unto you in some sort, as putting you in mind, because of the grace that is given to me of God, that I should be the minister of Jesus Christ to the Gentiles . . .
I have therefore whereof I may glory through Jesus Christ in those things which pertain to God. For I will not dare to speak of any of those things which Christ hath not wrought by me, to make the Gentiles obedient, by word and deed,
Through mighty signs and wonders, by the power of the Spirit of God: so that from Jerusalem, and round about unto Illyricum (Dalmatia), I have fully preached the gospel of Christ.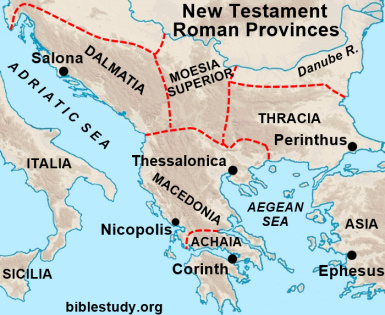 Location of Dalmatia
2Timothy 4:7 - 11
I have fought a good fight, I have finished my course, I have kept the faith: Henceforth there is laid up for me a crown of righteousness, which the Lord, the righteous judge, shall give me at that day: and not to me only, but unto all them also that love his appearing.
Do thy diligence (Timothy) to come shortly unto me: For Demas hath forsaken me, having loved this present world, and is departed unto Thessalonica: Crescens to Galatia, Titus unto Dalmatia.
Only Luke is with me. Take Mark, and bring him with thee: for he is profitable to me for the ministry.
Additional Studies