Galatia
Bible Meaning: Land of the Galli (Gauls)
Strong's Concordance #G1053, #G1054
The name Galatia is derived from the Celtic warriors invited to the area by Bithynia's King Nicomedes around 287 B.C. The territory they lived in eventually became an official Roman province in 25 B.C.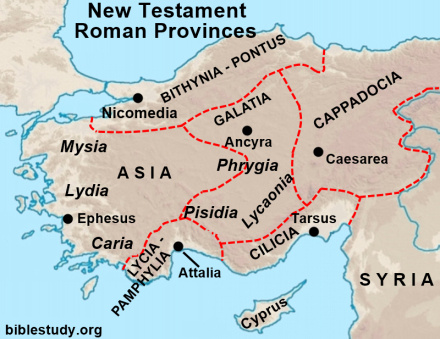 Herod the Great, after Antony and Cleopatra's combined forces were defeated in the battle of Actium in 31 B.C., went to Egypt to ingratiate himself with Octavia (who later became Roman emperor in 27 B.C.). Herod, the masterful politician, was not only able to have his life spared (he had sided with Antony and Cleopatra) he also received four hundred of Cleopatra's guards from Galatia as a gift (Antiquities of the Jews, book 15, chapter 7, section 3).
According to the first century historian Josephus, Galatian soldiers were among the honored attendees at Herod the Great's funeral in 4 B.C. (ibid. book 17, chapter 8, section 3).
New Testament importance
Galatia was one of the four provinces the Apostle Paul dedicated the most evangelistic time during his long ministry (the others were Asia, Achaia and Macedonia). He visited the area during his first, second and third missionary journeys.
Paul started the first Christian church in the Galatian cities Iconium, Derbe and Pisidian Antioch. The apostle Peter dedicated his first epistle to those in Galatia (1Peter 1:1). Please see our article on this fascinating province for more information.
Important verses
Acts 16:6 - 7
Now when they had gone throughout Phrygia and the region of Galatia, and were forbidden of the Holy Ghost to preach the word in Asia, after they were come to Mysia, they assayed to go into Bithynia: but the Spirit suffered them not.
Acts 18:23
And after he had spent some time there, he departed, and went over all the country of Galatia and Phrygia in order, strengthening all the disciples.
1Corinthians 16:1
Now concerning the collection for the saints, as I have given order to the churches of Galatia, even so do ye.
Galatians 1:1 - 3
Paul, an apostle, (not of men, neither by man, but by Jesus Christ, and God the Father, who raised him from the dead:) and all the brethren which are with me, unto the churches of Galatia: Grace be to you . . .
2Timothy 4:10
For Demas hath forsaken me, having loved this present world, and is departed unto Thessalonica: Crescens to Galatia, Titus unto Dalmatia.
1Peter 1:1
Peter, an apostle of Jesus Christ, to the strangers scattered throughout Pontus, Galatia, Cappadocia, Asia, and Bithynia . . .
Further Bible study: