Gethsemane
Bible Meaning: An oil press
Strong's Concordance #G1068
Gethsemane is only referenced twice in the KJV New Testament by name (Matthew 26:36, Mark 14:32). It is simply called "a garden" by John's gospel (John 18:1).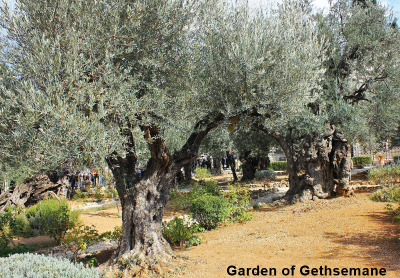 The garden of Gethsemane, located at the foot of the Mount of Olives, is only a short distance from Jerusalem's walls. After completing his last Passover, Jesus and his disciples walked to the garden and stayed there until his arrest at the hands of Judas Iscariot. See our other article on the garden for more information.
Important verses
Matthew 26:36 - 37
Then cometh Jesus with them unto a place called Gethsemane, and saith unto the disciples, Sit ye here, while I go and pray yonder.
And he took with him Peter and the two sons of Zebedee, and began to be sorrowful and very heavy.
Mark 14:32, 34
And they came to a place which was named Gethsemane: and he saith to his disciples, Sit ye here, while I shall pray . . . And saith unto them, My soul is exceeding sorrowful unto death: tarry ye here, and watch.
Further Bible study: