Gilboa
Bible Meaning:
Swollen heap, fountain of ebullition (bubbling over)
Strong's Concordance #H1533
Mount Gilboa is actually a range of mountains located in the land originally given to the tribe of Manasseh. In modern times, the range's highest peak rises to a height of about 1,627 feet (496 meters).
Overlooking Israel's well-known battlefield, the valley of Jezreel, Gilboa is the place where King Saul and his son Jonathan lost their lives while battling the Philistines (1Samuel 31).
Important Verses
1Samuel 28:3 - 4
Now Samuel was dead, and all Israel had lamented him, and buried him in Ramah, even in his own city. And Saul had put away those that had familiar spirits, and the wizards, out of the land.
And the Philistines gathered themselves together, and came and pitched in Shunem: and Saul gathered all Israel together, and they pitched in Gilboa.
1Samuel 31:1, 4 - 6, 18
Now the Philistines fought against Israel: and the men of Israel fled from before the Philistines, and fell down slain in mount Gilboa . . .
Then said Saul unto his armorbearer, Draw thy sword, and thrust me through therewith; lest these uncircumcised come and thrust me through . . . But his armourbearer would not; for he was sore afraid. Therefore Saul took a sword, and fell upon it.
And when his armourbearer saw that Saul was dead, he fell likewise upon his sword, and died with him. So Saul died, and his three sons, and his armourbearer, and all his men, that same day together . . .
And it came to pass on the morrow, when the Philistines came to strip the slain, that they found Saul and his three sons fallen in mount Gilboa.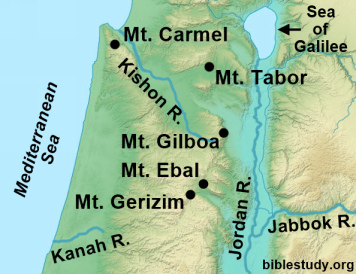 Location of Mount Gilboa
2Samuel 1:1 - 2, 6, 17, 21
Now it came to pass after the death of Saul, when David was returned from the slaughter of the Amalekites, and David had abode two days in Ziklag; It came even to pass on the third day, that, behold, a man came out of the camp from Saul . . .
And the young man that told him said, As I happened by chance upon mount Gilboa, behold, Saul leaned upon his spear: and, lo, the chariots and horsemen followed hard after him . . .
And David lamented with this lamentation over Saul and over Jonathan his son . . .
Ye mountains of Gilboa, let there be no dew, neither let there be rain, upon you, nor fields of offerings: for there the shield of the mighty is vilely cast away, the shield of Saul, as though he had not been anointed with oil.
2Samuel 21:12
And David went and took the bones of Saul and the bones of Jonathan his son from the men of Jabeshgilead, which had stolen them from the street of Bethshan, where the Philistines had hanged them, when the Philistines had slain Saul in Gilboa.
Additional Studies