Laodicea
Bible Meaning: Justice of the people
Strong's Concordance #G2993
Laodicea is located in the western part of Asia Minor in the Roman province of Asia.
Although the Apostle Paul references Laodicea at least four times in his epistle to the Colossians (Colossians 2:1, 4:13 - 16), there is no record of him actually visiting the city.
It is also unknown how the church started in the city. One possibility is that the city was evangelized by some of the people who were converted when the church began on Pentecost in 30 A.D. (see Acts 8:1, 4, 11:19 - 21).
The end of book reference for 1Timothy states that Paul wrote the epistle from Laodicea. This erroneous addition to the text should be ignored.
Spiritual assessment
Laodicea was one of Revelation's seven churches who received a spiritual evaluation directly from Jesus Christ. God drew an analogy from everyday life in the city in order to make his point that the church had become spiritually lukewarm.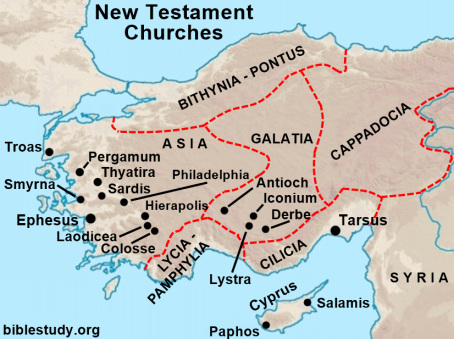 The city, because it lacked its own water supply, had to have it transported from the nearby city of Hierapolis. The water in Hierapolis came out of the ground hot. After its journey of six miles (9.6 kilometers) to the city, however, the water became lukewarm. Although cold water was desired for drinking purposes and hot water for bathing, lukewarm water was good for neither. Citizens had to make the water either hot or cold in order for it to be of use to them.
Like those in Laodicea and their water, God prefers dealing with people who are either hot (zealous for him and abound in good works) or cold (not converted). He does not like those who display only a half-hearted zeal toward him.
Important verses
Colossians 2:1 - 2
For I would that ye knew what great conflict I have for you, and for them at Laodicea, and for as many as have not seen my face in the flesh; That their hearts might be comforted, being knit together in love, and unto all riches of the full assurance of understanding, to the acknowledgement of the mystery of God, and of the Father, and of Christ
Colossians 4:12 - 13, 15
Epaphras, who is one of you, a servant of Christ, saluteth you, always laboring fervently for you in prayers, that ye may stand perfect and complete in all the will of God. For I bear him record, that he hath a great zeal for you, and them that are in Laodicea, and them in Hierapolis . . .
Salute the brethren which are in Laodicea, and Nymphas, and the church which is in his house.
Revelation 1:11
I was in the Spirit on the Lord's day, and heard behind me a great voice, as of a trumpet, saying, I am Alpha and Omega, the first and the last: and, What thou seest, write in a book, and send it unto the seven churches which are in Asia: unto Ephesus, and unto Smyrna, and unto Pergamos, and unto Thyatira, and unto Sardis, and unto Philadelphia, and unto Laodicea.
Revelation 3:14 - 16
And unto the angel of the church of the Laodiceans write; These things saith the Amen, the faithful and true witness, the beginning of the creation of God; I know thy works, that thou art neither cold nor hot: I would thou wert cold or hot. So then because thou art lukewarm, and neither cold nor hot, I will spue thee out of my mouth.
Additional Studies