Mamre
Bible Meaning: Strength, fatness, lusty
Strong's Concordance #H4471
Mamre was the name of one of Abraham's allies who helped him defeat the forces of Chedorlaomer in order to save Lot and his family.
The plain of Mamre was one of the primary places Abraham and his family lived in Canaan. It was considered a part of the city of Hebron (Genesis 13:18).
Important Verses
Person
Genesis 14:12 - 13
And they (Chedorlaomer's forces) took Lot, Abram's brother's son, who dwelt in Sodom, and his goods, and departed.
And there came one that had escaped, and told Abram the Hebrew: for he dwelt in the plain of Mamre the Amorite, brother of Eshcol, and brother of Aner: and these were confederate with Abram.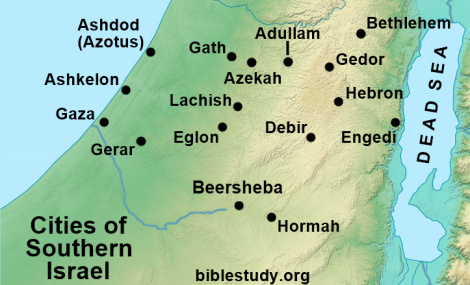 Location of Mamre
Genesis 14:22 - 24
And Abram said to the king of Sodom, I have lift up mine hand unto the Lord, the most high God, the possessor of heaven and earth, that I will not take from a thread even to a shoelatchet . . . lest thou shouldest say, I have made Abram rich:
Save only that which the young men have eaten, and the portion of the men which went with me, Aner, Eshcol, and Mamre: let them take their portion.
Location
Genesis 13:18
Then Abram removed his tent, and came and dwelt in the plain of Mamre, which is in Hebron, and built there an altar unto the Lord.
Genesis 23:1 - 2, 17 - 19
And Sarah was an hundred and seven and twenty years old: these were the years of the life of Sarah. And Sarah died in Kirjatharba . . .
And the field of Ephron, which was in Machpelah, which was before Mamre, the field, and the cave which was therein, and all the trees that were in the field, that were in all the borders round about, were made sure unto Abraham for a possession in the presence of the children of Heth . . .
And after this, Abraham buried Sarah his wife in the cave of the field of Machpelah before Mamre: the same is Hebron in the land of Canaan.
Genesis 25:9
And his sons Isaac and Ishmael buried him (Abraham) in the cave of Machpelah, in the field of Ephron the son of Zohar the Hittite, which is before Mamre;
The field which Abraham purchased of the sons of Heth: there was Abraham buried, and Sarah his wife.
Genesis 35:27 - 28
And Jacob came unto Isaac his father unto Mamre, unto the city of Arbah, which is Hebron, where Abraham and Isaac sojourned.
And the days of Isaac were an hundred and fourscore years.
Additional Studies