Nain
Bible Meaning: Beauty
Strong's Concordance #G3484
Nain was a village southwest of the Sea of Galilee. Its only direct King James New Testament mention is in Luke 7.
Jesus, while traveling through Galilee near the middle of 28 A.D., came to the city of Nain. As he entered the city, a procession of mourners was leaving it carrying the body of a young man who had died. Leading the procession, in front of the body, was the man's mother. She was a widower whose dead son was the only child she had.
Widows, especially those who lacked close relatives to help them, were vulnerable to poverty. They were also targets for others (including those who claimed to keep God's laws) to take advantage of their dire situation (Matthews 23:14, Mark 12:40, Luke 20:47).
Jesus, who felt deep compassion for the Nain widow's loss and the future trials her son's death would bring, mercifully stopped the funeral procession. He then commanded the young man to come alive, which he immediately did by sitting up and beginning to speak!
This rare raising of the dead in Nain was the first of three resurrection miracles Jesus would perform during his earthly ministry.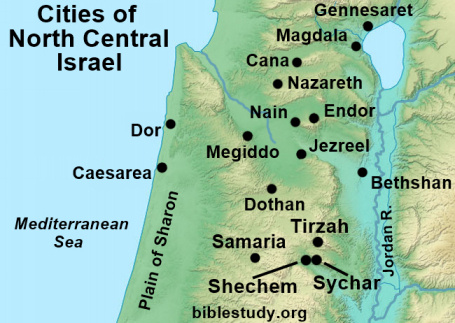 Location of Nain
Important Verses
Luke 7:11 - 16
And it came to pass the day after, that he went into a city called Nain: and many of his disciples went with him, and much people.
Now when he came nigh to the gate of the city, behold, there was a dead man carried out, the only son of his mother, and she was a widow: and much people of the city was with her.
And when the Lord saw her, he had compassion on her, and said unto her, Weep not. And he came and touched the bier: and they that bare him stood still. And he said, Young man, I say unto thee, Arise.
And he that was dead sat up, and began to speak. And he delivered him to his mother. And there came a fear on all (in Nain): and they glorified God, saying, That a great prophet is risen up among us; and, That God hath visited his people.
Additional Studies