Rome
Bible Meaning: Strength
Strong's Concordance #G4516
The city of Rome was the political, economic and military center of the Roman Empire in the first century A.D. Since its 753 B.C. founding in Italy, it had grew to a wealthy major metropolis with an estimated population of 1.2 million (half of which were slaves).
The life of Jesus and the early New Testament church spanned several emperors of Rome. Augustus ruled the empire in 5 B.C. when Christ was born into the world and his successor, Tiberius, reigned when Jesus was crucified in 30 A.D. Caligula ruled when a Centurion named Cornelius became the first recorded non-Jew to become a Christian (Acts 10).
Claudius was Emperor when, in 44 A.D., the Apostle Paul began the first of what would become five missionary journeys. He was also the ruler who expelled Priscilla, Aquila and other Jews from the city of Rome (Acts 18:1 - 2). Emperor Nero, in 67 A.D., began the first of the Empire's persecutions against believers. He approved the killing of a large number of saints, including Paul and Peter.
Emperor Domitian exiled the last living original apostle, John, to the island of Patmos around 95 A.D. It took his successor, Nerva, to release John from the island and allow him to spend his remaining days in Ephesus.
Roman Christians
The New Testament church began on the Day of Pentecost in 30 A.D. Among the crowds of people who heard the gospel, through one of Jesus' disciples, were "strangers of Rome" (Acts 2:10). They were among the many, on this unique day, to repent of their sins and receive God's Holy Spirit.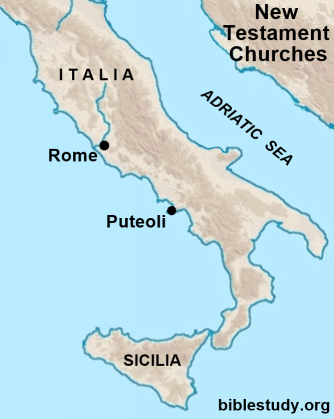 Aquila and Priscilla who, like the apostle Paul, were tentmakers (Acts 18:3), hosted a fellowship in their Roman home (Romans 16:3 - 5). Additionally, believers named Aristobulus, Narcissus, Asyncritus and Philogus maintained a house church (Romans 16:10 - 15). Paul himself, in his first imprisonment in Rome, was allowed the liberty of being guarded in a house that doubled as a place for believers to meet (Acts 28:16, 23, 29 - 31).
Amazingly, in spite of the circumstances under which he was held, Paul wrote at least five of his fourteen epistles (Ephesians, Philippians, Colossians, Philemon and 2Timothy) while held as a prisoner in Rome!
Important verses
Acts 18:1 - 2
After these things Paul departed from Athens, and came to Corinth; And found a certain Jew named Aquila, born in Pontus, lately come from Italy, with his wife Priscilla: (because that Claudius had commanded all Jews to depart from Rome:) and came unto them.
Acts 23:10 - 11
And when there arose a great dissension, the chief captain, fearing lest Paul should have been pulled in pieces of them (the Sanhedrin), commanded the soldiers to go down, and to take him by force from among them, and to bring him into the castle. And the night following the Lord stood by him, and said, Be of good cheer, Paul: for as thou hast testified of me in Jerusalem, so must thou bear witness also at Rome.
Acts 28:12 - 15
And landing at Syracuse, we (Paul and those on the ship) tarried there three days. And from thence we fetched a compass, and came to Rhegium: and after one day the south wind blew, and we came the next day to Puteoli:
Where we found brethren, and were desired to tarry with them seven days: and so we went toward Rome. And from thence, when the brethren heard of us, they came to meet us as far as Appii forum, and The three taverns: whom when Paul saw, he thanked God, and took courage.
Romans 1:1, 7
Paul, a servant of Jesus Christ, called to be an apostle, separated unto the gospel of God . . .
To all that be in Rome, beloved of God, called to be saints: Grace to you and peace from God our Father, and the Lord Jesus Christ.
Colossians 4:18
The salutation by the hand of me Paul. Remember my bonds. Grace be with you. Amen. Written from Rome to Colossians by Tychicus and Onesimus.
2Timothy 1:16 - 17
The Lord give mercy unto the house of Onesiphorus; for he oft refreshed me, and was not ashamed of my chain: But, when he was in Rome, he sought me out very diligently, and found me.
Additional Studies