Spain
Bible Meaning: Scarceness
Strong's Concordance #G4681
Although the Greek word for Spain is Spania, the Romans referred to it as Hispania. The area is located in the southwest corner of Europe also known as the Iberian Peninsula.
Spain is mentioned twice in the New Testament, both in relation to the Apostle Paul's fervent desire to preach the gospel in the country. Evidence suggests, though it is not conclusive, that he was able to visit this Roman territory in what became his fifth and last missionary journey.
It is unknown where Paul landed in Spain or how long he stayed. The apostle possibly sailed to Tarraco, the capital of the Tarraconensis region. A Mediterranean coastal city, it was the oldest Roman settlement on the Peninsula.
Did he really go there?
In regards to Paul's trip to Hispania (Spain), the Life and Epistles of St. Paul by Conybeare and Howson states the following.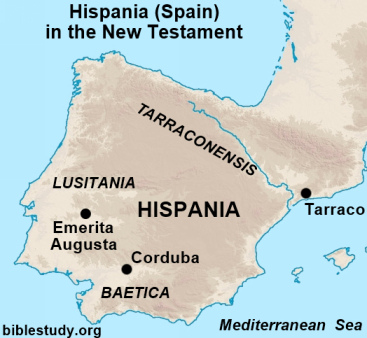 "Now, in a Roman author, the extremity of the West could mean nothing short of Spain, and the expression is often used by Roman writers to denote Spain. Here, then, we have the express testimony of Apostle Paul's own disciple that he fulfilled his original intention of visiting the Spanish peninsula . . .
"We also have the statement of Chrysostom, who mentions it as an undoubted historical fact, that 'Apostle Paul, after his residence in Rome, departed to Spain.' About the same time Jerome bears the same testimony, saying that 'Paul was dismissed by Nero, that he might preach Christ's Gospel in the West'" (Life and Epistles of Paul, Chapter 27).
Important verses
Romans 15:22 - 25, 28 - 29
For which cause also I have been much hindered from coming to you. But now having no more place in these parts, and having a great desire these many years to come unto you (the church in Rome);
Whensoever I take my journey into Spain, I will come to you: for I trust to see you in my journey, and to be brought on my way thitherward by you, if first I be somewhat filled with your company.
But now I go unto Jerusalem to minister unto the saints . . . When therefore I have performed this, and have sealed to them this fruit, I will come by you into Spain. And I am sure that, when I come unto you, I shall come in the fulness of the blessing of the gospel of Christ.
Additional Studies