Thessalonica (Thessalonians)
Bible Meaning: Victory of falsity
Strong's Concordance #G2332
Thessalonica was Macedonia's most populous city, maintained the province's largest port, and was its capital city. It was founded in 315 B.C. by Cassander, a relative of Alexander the Great who also was one of his generals. The city was located on the Thermaic Gulf in Greece and at the end of a major trade route that started at the Danube.
Thessalonica, along with Corinth, was the two most important economic centers of all of Greece. As a designated "free city" in the Roman Empire, it had no army garrison within its walls and benefitted from the privilege of striking its own coins.
The Apostle Paul evangelized the northern Greece city during his second and third journeys. A man named Jason, a Jewish Christian who was likely a blood relative of Paul (Romans 16:21), hosted believers in his home at Thessalonica (Acts 17:5 - 9).
Erroneous Additions
The end notes of both books to the Thessalonians, found in some old translations like the KJV, states that Paul wrote these books from Athens (1 Thessalonians 5:28, 2 Thessalonians 3:18).
Paul, however, spent only a short time in Athens (Acts 17:15 - 33) before leaving for Corinth. He would not have had the time to pen two epistles to those in Thessalonica.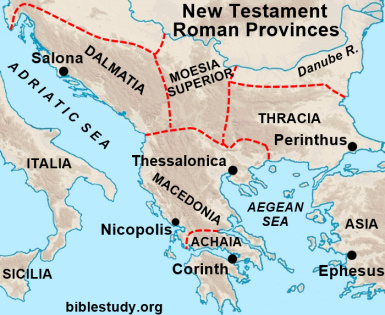 Location of Thessalonica
Additionally, the apostle had an affliction of the eyes (likely his "thorn in the flesh") that made it difficult to see. This meant He often dictated his letters to trusted fellow Christians to write down. Paul, however, visited Athens by himself (Acts 17:14 - 16) and had no one to perform this task.
Paul's letters to the church in Thessalonica were written from Corinth that he visited immediately after Athens. Penned from 50 to 51 A.D., they represent his earliest Biblical books.
Important Verses
Acts 17:1, 10 - 11, 13
Now when they had passed through Amphipolis and Apollonia, they came to Thessalonica, where was a synagogue of the Jews . . .
And the brethren immediately sent away Paul and Silas by night unto Berea: who coming thither went into the synagogue of the Jews. These were more noble than those in Thessalonica, in that they received the word with all readiness of mind, and searched the scriptures daily, whether those things were so . . .
But when the Jews of Thessalonica had knowledge that the word of God was preached of Paul at Berea, they came thither also, and stirred up the people.
Acts 27:1 - 2
And when it was determined that we should sail into Italy, they delivered Paul and certain other prisoners unto one named Julius, a centurion of Augustus' band. And entering into a ship of Adramyttium, we launched, meaning to sail by the coasts of Asia: one Aristarchus, a Macedonian of Thessalonica, being with us.
1Thessalonians 1:1 - 2
Paul, and Silvanus, and Timotheus, unto the church of the Thessalonians which is in God the Father and in the Lord Jesus Christ: Grace be unto you, and peace, from God our Father, and the Lord Jesus Christ. We give thanks to God always for you all, making mention of you in our prayers . . .
Philippians 4:15 - 16
Now ye Philippians know also, that in the beginning of the gospel, when I departed from Macedonia, no church communicated with me as concerning giving and receiving, but ye only. For even in Thessalonica ye sent once and again unto my necessity.
2Timothy 4:10
For Demas hath forsaken me, having loved this present world, and is departed unto Thessalonica: Crescens to Galatia, Titus unto Dalmatia.
Additional Studies