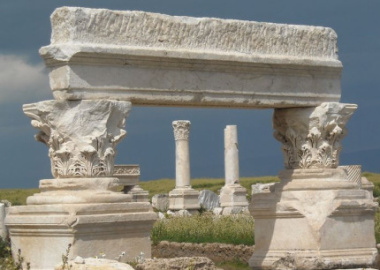 Laodicea, located at the junction of several important trade routes, is 77 kilometers (48 miles) from Philadelphia (Alasehir) and 155 kilometers (96 miles) from Ephesus. A round trip visit to all the seven churches of Revelation would be 523 kilometers or 325 miles.
The city, originally named Diospolis ('the city of Jupiter') and then Rhoas, was given the name Laodicea by King Antiochus II. The King, who named the city after his wife, rebuilt it and populated it with Syrians and Jews who migrated from Babylonia.
Laodicea, like Rome, was built upon seven hills. It was one of Asia Minor's most flourishing cities. It prospered primarily due to its trade route location, which made it a hub for large money transactions. The sheep kept around the city were also known for their fine black wool. The city minted coinage, some of which have inscriptions showing evidence of the worship of the pagan deity Zeus and of the emperors.
The city often suffered from earthquakes. It was completely destroyed when an earthquake occurred during the reign of Emperor Nero. The inhabitants were so wealthy that they declined Roman assistance to rebuild the city and instead opted to quickly rebuild it at their own expense.
Revelation's Seven Churches
Thyatira - Sardis - Philadelphia
The city's number of believers in the early New Testament church of God made it a major hub of Christianity. The apostle Paul makes at least 4 references to the city in his epistle to the Colossians. Interestingly, he references the city even though he had never visited it (quotes taken from The Holy Bible - A Faithful Version unless noted).
1. Now I want you to understand what great concern I have for you, and for those in Laodicea, and as many as have not seen my face in the flesh; . . . (Colossians 2:1)

13. For I bear witness to him (Epaphras, a preacher who was pivotal in the conversion of many people in Colossae) that he has much zeal for you, and for those in Laodicea, and for those in Hierapolis (4:13).

15. Salute the brethren in Laodicea, and Nymphas, and the church in his house. 16. After you have read the epistle, see that it also is read in the church of the Laodiceans . . . (4:15 - 16)
Revelation's Warning
The church in this city was the seventh and last of seven churches in Asia Minor who received a spiritual evaluation directly from God through Jesus Christ.
14. And to the angel of the church of the Laodiceans, write: These things says the Amen, the faithful and true Witness, the Beginner of the creation of God. 15. I know your works, that you are neither cold nor hot; I would that you be either cold or hot. 16. So then, because you are lukewarm, and are neither cold nor hot, I will spew you out of My mouth.

17. For you say, 'I am rich, and have become wealthy, and have need of nothing'; and you do not understand that you are wretched, and miserable, and poor, and blind, and naked. 18. I counsel you to buy from Me gold purified by fire so that you may be rich; and white garments so that you may be clothed, and the shame of your nakedness may not be revealed; and to anoint your eyes with eye salve, so that you may see.

19. As many as I love (like those in Laodicea), I rebuke and chasten. Therefore, be zealous and repent. 20. Behold, I stand at the door and knock. If anyone hears My voice and opens the door, I will come in to him, and will sup with him, and he with Me. 21. To the one who overcomes will I give authority to sit with Me in My throne, even as I also overcame, and sat down with My Father in His throne. (Revelation 3:14 - 21, HBFV)