John Newton (born in 1725 A.D., died in 1807 A.D.) was a clergyman who wrote, in 1779 A.D., the most popular hymn of all time entitled Amazing Grace. The hymn was created after he became a Christian and rejected participating any longer in the notorious slave trade. Inspiration for Amazing Grace came from his own personal experiences.
The man who would write Amazing Grace was born in the London district of Wapping, England, in 1725. His father was a shipping merchant who, though brought up Catholic, was sympathetic toward the Protestants. His mother was an independent Christian who was not affiliated with any church. John's mother wanted him to become a clergyman, but she died of tuberculosis when he was six. He ultimately grew up without any particular religious convictions.
Life at Sea
John, at the age of eleven, became an apprentice on the same ship served by his father. From 1736 to 1742, he sailed on six voyages. In 1743, while on his way to visit friends, he was abducted and forced to work on a British Royal Navy ship. He soon became a midshipman aboard the ship HMS Harwich.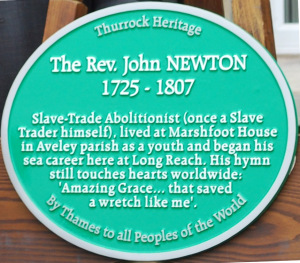 Plaque commemorating
John Newton
John was rescued in 1748 and taken back to England. It was during his journey home that he became a Christian, a decision that would lead to writing his most famous hymn. In 1750, he captained three voyages on two different slave ships. It was not until 1754 that he gave up his living working in the slave trade.
Song Writer
Newton, in 1764, was ordained and served in Olney, Buckinghamshire. William Cowper, a poet, moved to the area three years later. He struck up a friendship with the pastor, the result of which ultimately produced the Olney Hymns. In 1779, John became Rector of St. Mary Woolnoth in London and before the year ended, wrote Amazing Grace.
John Newton died in 1807, in London, at the ripe old age of 82. Other well-known hymns produced by him include "Glorious Things of Thee are Spoken," "How Sweet the Name of Jesus Sounds!", "Come, My Soul, Thy Suit Prepare" and "Approach, My Soul, the Mercy seat."
Most Popular Hymn
The hymn, although it had its roots in England, became an integral part of the Christian church in the United States. The hymn, in the 19th century, spread like wildfire and became a staple of many religious services. Gatherings of thousands of people attended camp meetings where they came to experience salvation and fiery preaching. John Newton's hymn was one of many that punctuated the fervent sermons that people heard.
As recorded music and the radio became popular in the 20th century, the song's popularity began to grow. Instead of appealing primarily to Christians it also generated interest in secular audiences. This further increased the song's distribution among the population.
Amazing Grace is the most popular, and most recorded, hymn ever wrote. The Gospel Music Association recognized Mr. Newton for this, and his other hymns, by inducting him into the Gospel Music Hall of Fame in 1982.
Recommended Articles