What are the many awesome attributes God possesses? What are the characteristics and traits that make him divine? Does the Bible reveal what He looks like?
Since Jesus is also God, this article will briefly discuss the characteristics of the Godhead (composed of the Father AND Christ). We begin with what our Creator looks like in their true spiritual form. Jesus said no human has seen or spoke to God the Father at any time (John 1:17 - 18, 5:37, 6:46, etc.). The Bible, however, does give us at least some clues regarding certain attributes such as what they look like.
We know that what God looked like was used as a pattern in the creation of man (Genesis 1:26). They used themselves as the master template from which man's appearance came into existence. Scripture tells us that God possesses a body composed of spirit (Daniel 7:9 - 14, 10:5 - 19, 1Corinthians 15:44, Philippians 3:21), which has a shape (John 5:37) and form (Philippians 2:5 - 7, 3:21).
God also has a head (Revelation 19:12, 1:14, Jeremiah 19:5, 32:35) which has a face (Deuteronomy 34:10, Genesis 33:10), hair (Daniel 7:9, Revelation 1:14), eyes (Revelation 1:14, Psalm 11:4, 18:24), ears (Psalm 18:6, 34:15), mouth (Numbers 12:8, Isaiah 1:20), lips (Isaiah 11:4, 30:27) and a tongue (Isaiah 30:27).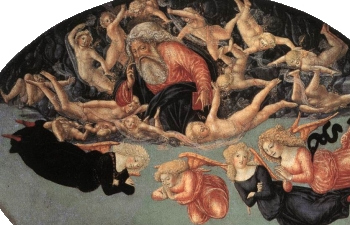 God the Father
Francesco Di Giorgio Martini, c. 1470
God also possesses arms (Psalm 44:3, John 12: 38) which have hands (Psalm 102:25 - 26, Hebrews 1:10) and fingers (Exodus 31:18, Psalm 8:3 - 6). They have loins (Ezekiel 1:26 - 28, 8:1 - 4), feet (Psalm 18:9, Ezekiel 1:26, 1Corinthians 15:27) and even back parts (Exodus 33:23)! They also share, like the angels, the trait of being sexless.
Moral qualities of divinity
What are some of the character attributes that distinguish God (the Father and Christ) from all others? Both Beings are holy, good and perfect (Deuteronomy 32:4, Psalm 18:30, Matthew 5:48, Romans 2:4). They are always faithful (1Corinthians 10:13, 2Corinthians 1:20, Hebrews 6:18), long suffering (Exodus 34:6 - 7), perfectly impartial (1Peter 1:17) and merciful (Lamentations 3:22, Romans 11:32, James 5:11).
God has chosen never to lie (1Samuel 15:29, Hebrews 6:17 - 18). He does not directly tempt anyone with evil or lead them to sin (James 1:13). He will also always be righteous as there is no "darkness" in him at all (1John 1:5). He is the only one who gives perfect gifts (James 1:17) and is holy (Exodus 15:11, Isaiah 40:25, John 17:11, etc.).
God is also a living definition of love and truth (John 3:16, 17:3, Romans 15:30, 1John 4:8, 5:20) and the very essence of life (Jeremiah 10:10, Hebrews 7:16, Revelation 11:11). Their perfect character has existed forever and will always exist for all eternity (Hebrews 13:8).
What can God do and what does He possess that no other living being can do or have (unless He gives them the ability)? The Godhead is all powerful (Job 42:2, Matthew 28:18, Revelation 19:6) and eternal (Psalm 90:2, Isaiah 57:15, 1Timothy 1:17) with a self-sustaining existence (Exodus 3:14, 6:3, John 1:4, 5:26).
God can know anything or be anywhere at any time (Romans 11:33, Psalm 139, Proverbs 24:12). Both God the Father and Jesus Christ can know the thoughts and intentions of anyone (Hebrews 4:12) and can be invisible for as long as they choose (Colossians 1:15).
The attributes of God, when discovered, are truly amazing.