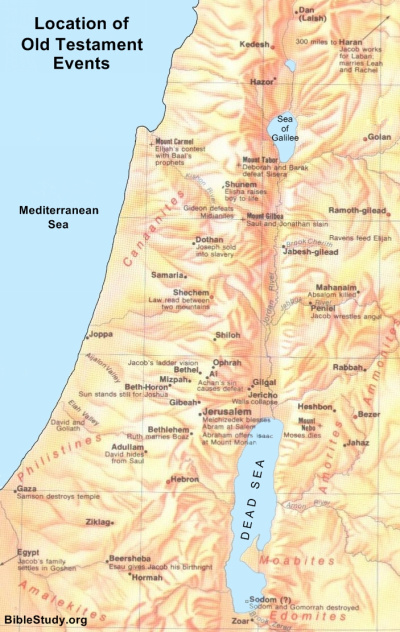 Cities within Map
Adullam
At one time a Canaanite royal city. Location where King David hid in a cave from King Saul (1Samuel 22:1, 2Samuel 23:13).
Ai
Second city taken by ancient Israel after they entered the Promised Land (Joshua 7:3 - 5, 8:1, 9:3, etc.).
Beersheba
Used as reference to the most southern part of ancient Israel (Judges 20:1, 2Samuel 24:2).
Beth-Horan
Place where the sun stood still for several hours to allow Joshua more time to fight the Amorites (Joshua 10).
Bethel
Place where Jacob (Israel) saw a vision of a ladder going up to heaven (Genesis 28:11 - 19, Genesis 31:13).
Bethlehem
The home of Ruth and King David. Place where Jesus Christ born. (Ruth 1:1, Matthew 2:1).
Brook Cherith
Place where ravens fed Elijah during a drought (1Kings 17).
Dothan
Place where Joseph is sold into slavery by his brothers (Genesis 37:17).
Egypt
Due to a drought Jacob and his entire family migrate to Goshen.
Gaza
Place where Samson sacrifices his life to destroy the Philistines' pagan temple (Judges 16:21 - 30).
Haran
Jacob works for Laban in city then marries his daughters Leah and Rachel (Genesis 27:43, 28:7, 31:17 - 21).
Jericho
Walls miraculously collapse at the sound of a trumpet, allowing the Israelites to take the city (Joshua 6).
Jerusalem
Place where Melchizedek blesses Abraham and where Abraham offers his only son Isaac as a sacrifice to God.
Mount Carmel
Place where Elijah the prophet has confrontation with the prophets of Baal (1Kings 18:20 - 42).
Mount Gilboa
King Saul and his son Jonathan are killed in battle (1Samuel 31:11, 2Samuel 1:6).
Mount Nebo
Moses dies on mountain after seeing the Promised Land (Deuteronomy 32:49 - 50, 34:1).
Mount Tabor
Mount where Deborah and Barak defeat the army of Sisera (Judges 4:14).
Peniel
Place where Jacob wrestled a pre-incarnate Jesus Christ (Genesis 32).
Philistines
Historic enemies of ancient Israel and the place where Goliath the giant lived.
Shechem
Made one of Israel's six cities of refuge (Joshua 20:7).
Shunem
Place where Elisha the prophet raises from the dead the son of a Shunammite woman (2Kings 4).
Sodom
Sodom and Gomorrah are destroyed by God for their sins (Genesis 19).