Apollonia
Bible Meaning: Belonging to Apollo (pagan deity)
Strong's Concordance #G624
Apollonia is located in the Roman province of Macedonia between Thessalonica to the west and Amphipolis to the east. Paul, along with fellow laborer Silas, journeyed west through the city during the apostle's second missionary journey.
Important Verses
Acts 17:1 - 3
Now when they had passed through Amphipolis and Apollonia, they came to Thessalonica, where was a synagogue of the Jews: And Paul, as his manner was, went in unto them, and three sabbath days reasoned with them out of the scriptures,
Opening and alleging, that Christ must needs have suffered, and risen again from the dead; and that this Jesus, whom I preach unto you, is Christ.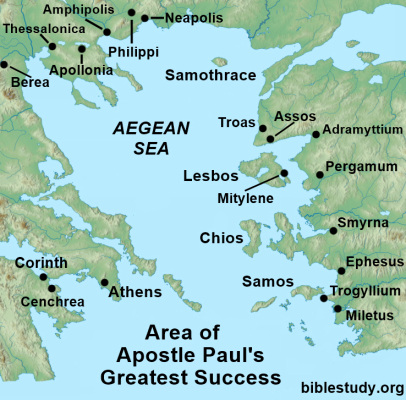 And some of them believed, and consorted with Paul and Silas; and of the devout Greeks a great multitude, and of the chief women not a few.
Additional Studies