Macedonia, located in the northern part of Greece, is found twenty-eight times in the King James New Testament. It became a Roman province in 147 B.C. One year later, the region known as Epirus was incorporated in Macedonia and stayed within the provincial boundaries well past the first century A.D.
The primary rivers of Macedonia were the Strymon and Axius. Its most famous mountains were Athos and Olympus, the latter believed to be the residence of mighty pagan gods.
New Testament cities within Macedonia included Berea (Acts 27:10, 13, 20:4), Thessalonica (the capital city - Acts 17:1, 11, 13, etc.), Philippi (Acts 16:12, 20:6, 1Corinthians 16:24, etc.), Amphipolis (Acts 17:1), Appollonia (Acts 17:1), Neapolis (Acts 16:11) and Nicopolis (Titus 3:12, 15).
Center of an empire
Macedonia (which is still part of modern-day Greece) is well known, in part, due to its link with Alexander the Great. Alexander, like his father King Philip of Macedon, was born in the Greek strategic port of Pella.
After Philip's death in 336 B.C. he succeeded him as king and soon began a series of battles that would lead to the conquest of Persia, Syria, Phoenicia, Judea, Egypt and Mesopotamia. His empire, foretold years earlier by the prophet Daniel (Daniel 2, 7, 8), stretched from the Ionian Sea to India.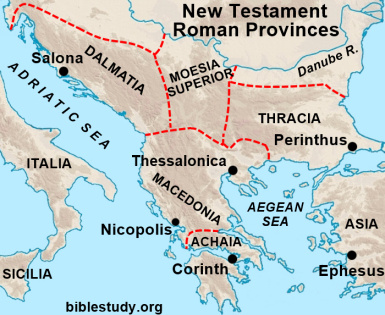 Center of evangelism
Macedonia is one of the four major areas in the world Paul focused his evangelistic efforts (the others were Achaia, Asia and Galatia). It is where he experienced some of his greatest missionary successes.
The apostle is the catalyst for starting a Christian church not only in Philippi, but also in Thessalonica and Berea. During his stays in the province he writes the book of 2Corinthians (57 A.D.) and the books of 1Timothy and Titus in 63. After his short stay in Nicopolis in 63 he carries out his final missionary journey by fulfilling his goal to preach in both Spain (Romans 15:24, 28) and (highly likely) Britain.
Some of Paul's traveling companions and fellow laborers in the gospel came from Macedonia. These included Aristarchus, Jason and Secundus from Thessalonica (Acts 20:4, Romans 16:21, Colossians 4:10), Epaphroditus, Syntyche and Euodia from Philippi (Philippians 2:25 - 30, 4:2) and Sopater from Berea (Acts 20:4).