Bozrah
Bible Meaning: Sheepfold, fortress
Strong's Concordance #H1224
There are two cities named Bozrah in Scripture. The first is the capital of Edom, the territory settled by Jacob's twin brother Esau (Genesis 25:30, 36:8). The second is found within Moabite land which lies east of the Dead Sea (Jeremiah 48:24). Some Biblical commentaries believe Jeremiah's Bozrah is either referencing the city found in Edom or possibly Bezer.
Bozrah was also one of the cities on the famous north-south transportation route, east of the Jordan River, known as the King's Highway.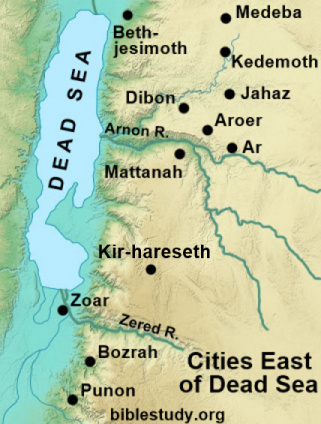 Important verses
Genesis 36:33
And Bela died, and Jobab the son of Zerah of Bozrah reigned in his stead.
Isaiah 34:6
The sword of the LORD is filled with blood, it is made fat with fatness, and with the blood of lambs and goats, with the fat of the kidneys of rams: for the LORD hath a sacrifice in Bozrah, and a great slaughter in the land of Idumea.
Isaiah 63:1
Who is this that cometh from Edom, with dyed garments from Bozrah? this that is glorious in his apparel, travelling in the greatness of his strength? I that speak in righteousness, mighty to save.
Jeremiah 48:24
And upon Kerioth, and upon Bozrah, and upon all the cities of the land of Moab, far or near.
Jeremiah 49:13, 22
For I have sworn by myself, saith the LORD, that Bozrah shall become a desolation, a reproach, a waste, and a curse: and all the cities thereof shall be perpetual wastes.
Behold, he shall come up and fly as the eagle, and spread his wings over Bozrah: and at that day shall the heart of the mighty men of Edom be as the heart of a woman in her pangs.
Amos 1:12
But I will send a fire upon Teman, which shall devour the palaces of Bozrah.
Micah 2:12
I will surely assemble, O Jacob, all of thee: I will surely gather the remnant of Israel: I will put them together as the sheep of Bozrah, as the flock in the midst of their fold: they shall make great noise by reason of the multitude of men.
Further Bible study: