Gozan
Bible Meaning: A cutting off, quarry
Strong's Concordance #H1470
Gozan was located within Assyrian controlled territory on the Habor River, one of several tributaries that feed the mighty Euphrates.
The Assyrian Empire completed its conquering of the Kingdom of Israel (northern ten tribes) in 723 B.C. with the fall of Samaria. The many Israelite captives they took were mainly resettled in Gozan, other areas near the Habor River, Halah and several towns in Media.
Important verses
2Kings 17:6
In the ninth year of Hoshea the king of Assyria took Samaria, and carried Israel away into Assyria, and placed them in Halah and in Habor by the river of Gozan, and in the cities of the Medes.
2Kings 18:9, 11
And it came to pass in the fourth year of king Hezekiah, which was the seventh year of Hoshea son of Elah king of Israel, that Shalmaneser king of Assyria came up against Samaria, and besieged it . . .
And the king of Assyria did carry away Israel unto Assyria, and put them in Halah and in Habor by the river of Gozan, and in the cities of the Medes . . .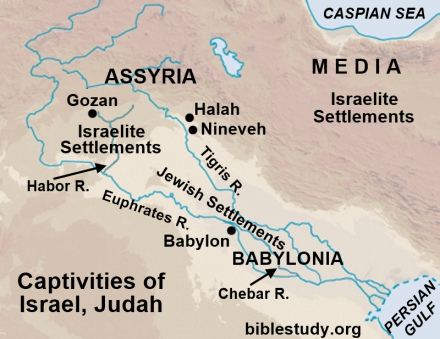 Location of Gozan
2Kings 19:10, 12
Thus shall ye speak to Hezekiah king of Judah, saying, Let not thy God in whom thou trustest deceive thee, saying, Jerusalem shall not be delivered into the hand of the king of Assyria . . .
Have the Gods of the nations delivered them which my fathers have destroyed: as Gozan, and Haran, and Rezeph, and the children of Eden which were in Thelasar?
1Chronicles 5:25 - 26
And they (Israel) transgressed against the God of their fathers, and went a whoring after the Gods of the people of the land, whom God destroyed before them.
And the God of Israel stirred up the spirit of Pul king of Assyria, and the spirit of Tilgathpilneser king of Assyria, and he carried them away, even the Reubenites, and the Gadites, and the half tribe of Manasseh, and brought them unto Halah, and Habor, and Hara, and to the river Gozan, unto this day.
Additional Studies