Orion
Meaning of Name: A constellation
Strong's Concordance #H3685
The constellation Orion is commonly referred to as the great hunter. It is one of the brightest constellations in the earth's southern hemisphere.
Job mentions the making of Orion as one of God's magnificent works that testifies, in the sky, of his existence, power and wisdom. The Eternal also challenges the patriarch to use his own power to "loosen" the bands (fetters) of the constellation if he can!
The minor prophet Amos also mentions Orion as proof of the Lord's limitless creative powers.
Important Verses
Job 9:1 - 4, 6 - 9
Then Job answered and said, I know it is so of a truth: but how should man be just with God? If he will contend with him, he cannot answer him one of a thousand. He is wise in heart, and mighty in strength: who hath hardened himself against him, and hath prospered? . . .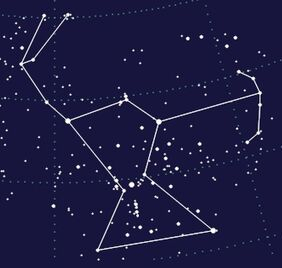 The Orion Constellation
Which shaketh the earth out of her place, and the pillars thereof tremble.
Which commandeth the sun, and it riseth not; and sealeth up the stars. Which alone spreadeth out the heavens, and treadeth upon the waves of the sea.
Which maketh Arcturus, Orion, and Pleiades, and the chambers of the south.
Job 38:1 - 3, 31
Then the Lord answered Job out of the whirlwind, and said, Who is this that darkeneth counsel by words without knowledge? Gird up now thy loins like a man: for I will demand of thee, and answer thou me . . .
Canst thou bind the sweet influences of Pleiades, or loose the bands of Orion?
Amos 5:1 - 2, 6 - 8
Hear ye this word which I take up against you, even a lamentation, O house of Israel. The virgin of Israel is fallen; she shall no more rise: she is forsaken upon her land; there is none to raise her up . . .
Seek the Lord, and ye shall live . . . Ye who turn judgment to wormwood, and leave off righteousness in the earth.
Seek him that maketh the seven stars and Orion, and turneth the shadow of death into the morning, and maketh the day dark with night: that calleth for the waters of the sea, and poureth them out upon the face of the earth: The Lord is his name . . .
Additional Studies