Pleiades
Meaning of Name: A constellation
Strong's Concordance #H3598
Pleiades is the name of six or seven star constellation that both God and Job reference as an example of the Lord's power and wisdom. The star cluster is part of the neck of Taurus the Bull, one of the twelve signs of the zodiac.
Important Verses
Job 9:1 - 4, 6 - 9
Then Job answered and said, I know it is so of a truth: but how should man be just with God? If he will contend with him, he cannot answer him one of a thousand. He is wise in heart, and mighty in strength: who hath hardened himself against him, and hath prospered? . . .
Which shaketh the earth out of her place, and the pillars thereof tremble.
Which commandeth the sun, and it riseth not; and sealeth up the stars. Which alone spreadeth out the heavens, and treadeth upon the waves of the sea.
Which maketh Arcturus, Orion, and Pleiades, and the chambers of the south.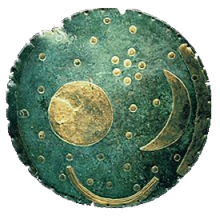 The Nebra sky disk (c. 1600 B.C.)
The upper right seven dot cluster
is believed to be the Pleiades.
Job 38:1 - 3, 31
Then the Lord answered Job out of the whirlwind, and said, Who is this that darkeneth counsel by words without knowledge? Gird up now thy loins like a man: for I will demand of thee, and answer thou me . . .
Canst thou bind the sweet influences of Pleiades, or loose the bands of Orion?
Additional Studies