Philippi
Bible Meaning: Lover of horses
Strong's Concordance #G5375
Anciently, Philippi was the site of a rich gold mine. King Philip II of Macedon (the father of Alexander the Great) seized the mines in the area, fortified the city, and named it after himself. Later it became a Roman colony (Acts 16:12) and, at the time of the New Testament, was more a military town than a hub of major commerce.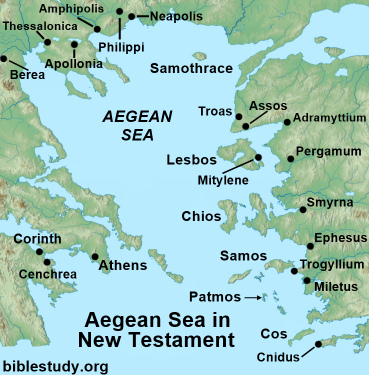 Paul visited Philippi on his second and third evangelistic journeys. He made his first convert on the European continent in the city, a woman named Lydia, who traveled extensively for her business of selling purple dyed fabrics (Acts 16:13 - 15). The first European Christian church also began in the city.
The believers in Philippi and the surrounding area were special to Paul, as they were the only ones who supported him financially, even as he ministered in other areas (2Corinthians 11:7 - 9, Philippians 4:15 - 18).
Erroneous notation
Found in some translations, a note at the end of 1Corinthians states the book was written from Philippi. For example, the last verse of this book, in the King James Bible, records the following.
"My love be with you all in Christ Jesus. Amen. The first epistle to the Corinthians was written from Philippi by Stephanas and Fortunatus and Achaicus and Timotheus (Timothy)" (1Corinthians 16:24).
This notation contradicts Paul's words earlier in the chapter that says he was in Ephesus (which is in Asia) when he wrote to the church at Corinth (1Corthians 16:7 - 8, 19). That said, the note added to the end of 2Corinthians, stating it was penned in Philippi, is correct (2Corinthians 13:14).
Important verses
Acts 16:11 - 12
Therefore loosing from Troas, we came with a straight course to Samothracia, and the next day to Neapolis; and from thence to Philippi, which is the chief city of that part of Macedonia, and a colony: and we were in that city abiding certain days.
Acts 20:6
And we sailed away from Philippi after the days of unleavened bread, and came unto them to Troas in five days: where we abode seven days.
2Corinthians 13:14
The grace of the Lord Jesus Christ, and the love of God, and the communion of the Holy Ghost (Spirit), be with you all. Amen. The second epistle to the Corinthians was written from Philippi, a city of Macedonia, by Titus and Lucas.
Philippians 1:1
Paul and Timotheus (Timothy), the servants of Jesus Christ, to all the saints in Christ Jesus which are at Philippi, with the bishops and deacons . . .
1Thessalonians 2:2
But even after that we had suffered before, and were shamefully entreated, as ye know, at Philippi, we were bold in our God to speak unto you the gospel of God with much contention.
Further Bible study: