Ziz
Bible Meaning: Flower, bloom
Strong's Concordance #H6732
Ziz was the name of a Judean wilderness pass located near the western Dead Sea town of Engedi (2Chronicles 20:1).
Judah's King Jehoshaphat (872 - 848 B.C.) was fearful of an attack by the Moabites, Ammonites and others through Ziz. In desperation he cried out to the Lord for help (2Chronicles 20). God's gracious response was to insure Judah's victory by fighting for his people.
Important Verses
2Chronicles 20:1, 14 - 17
It came to pass after this also, that the children of Moab, and the children of Ammon, and with them other beside the Ammonites, came against Jehoshaphat to battle . . .
Then upon Jahaziel the son of Zechariah, the son of Benaiah, the son of Jeiel, the son of Mattaniah, a Levite of the sons of Asaph, came the Spirit of the Lord in the midst of the congregation;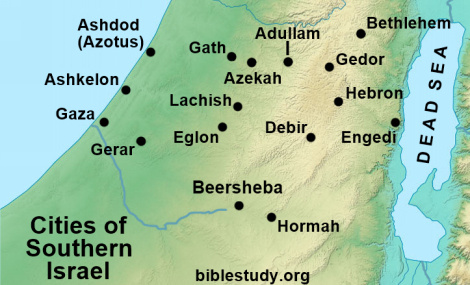 The Ziz Pass is located near Engedi
And he said, Hearken ye, all Judah, and ye inhabitants of Jerusalem, and thou king Jehoshaphat, Thus saith the Lord unto you, Be not afraid nor dismayed by reason of this great multitude; for the battle is not yours, but God's.
To morrow go ye down against them: behold, they come up by the cliff of Ziz: and ye shall find them at the end of the brook, before the wilderness of Jeruel.
Ye shall not need to fight in this battle: set yourselves, stand ye still, and see the salvation of the Lord with you . . .
Additional Studies