Answer: The English word "love" occurs more than 311 times in the King James Bible, with slight variations of the word occurring at least ten other times. Of these, 180 of them are in the New Testament. The Biblical writer with the most references to this word is, not surprisingly, the apostle John.
Two categories
There are at least two categories or types of love mentioned in the Bible. Each category uses a different Greek word. This is one reason why it is a very good idea to understand a little bit about the translating of words from one language to another. There are also differing manifestations of love in Scripture, such as towards one's parents, children, God or for one's fellow man.
The scriptures that delineate two out of the three categories of love that the New Testament writers discuss are in Jesus' short talk with Peter. The purpose of his discussion with the future apostle, who had denied him three times before he was crucified (Matthew 26:34), was not to test him but rather to encourage and strengthen him for the work that was ahead of him.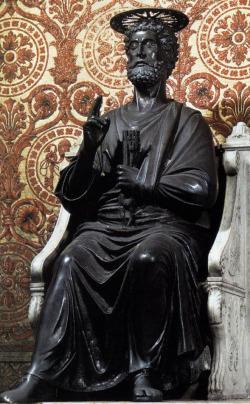 Statue of Saint Peter
Arnolfo Di Cambio, c. 1300
Therefore, when they had finished eating, Jesus said to Simon Peter, "Simon, son of Jonas, do you love (agapao), Me more than these?" And he said to Him, "Yes, Lord. You know that I love (phileo) You." He said to him, "Feed My lambs." (John 21:15, HBFV).
The Greek word agapao, used by Jesus, is Strong's Concordance #G25 and means a caring or godly concern for someone even if you do not know or like him or her. It is always used in the New Testament to refer to man's feelings toward God. Christ, in almost all of his teachings, used this word.
The Greek word Peter used, to respond to Christ, is phileo, Strong's Concordance #G5368, and means to show signs of or otherwise denote brotherly affection. This original language word is never used in the New Testament to express man's relationship or devotion to God.
Christ quickly responded to Peter's rather startled answer by stating he should take care of his lambs (new believers in him).
A third type
There is a third designation or type of love found in the Greek language which is absent in the New Testament. It is defined by the word eros, which was the name the ancient Greeks used for one of their many pagan gods.
We get our English word "erotic" from eros, which is used today in reference to sex or sex-based love. Part of the reason why this word is not in the New Testament is that God is more concerned about how we treat him and each other rather than on our physical sensations.