Meaning of Numbers: Infinity
What does the King James Bible say about infinity? How is it an intrinsic component to God's existence?
The word infinite (infinity) originated between 1350 and 1400 A.D. (Dictionary.com) and was derived from the Latin infinitus meaning boundless. The 1611 King James translators used this word a few times (Job 22:5, Psalm 147:5, Nahum 3:9) as well as many other related words and phrases.
The idea of infinity, not surprisingly, is much older than the word. One of the earliest conceptualizations may have come from the Greek philosopher Anaximander (610 - 545 B.C.). He wrote about the concept of the infinite and linked it to the size of the universe (Cambridge Companion to Early Greek Philosophy, p. 127).
Synonyms
Scripture is full of synonyms related to infinity. The below list of verses is just a small sample.
Great is our Lord, and of great power: his understanding is INFINITE (Psalm 147:5, KJV unless noted).

For thus saith the high and lofty One that inhabiteth ETERNITY, whose name is Holy; I dwell in the high and holy place . . . (Isaiah 57:15).

O the depth of the riches both of the wisdom and knowledge of God! How UNSEARCHABLE are his judgments, and his ways past finding out! (Romans 11:33).

But the mercy of the Lord is from EVERLASTING TO EVERLASTING upon them that fear him . . . (Psalm 103:17).

The four and twenty elders fall down before him that sat on the throne, and worship him that liveth FOR EVER AND EVER . . . (Revelation 4:10).

And I heard as it were the voice of a great multitude, and as the voice of many waters, and as the voice of mighty thunderings, saying, Alleluia: for the Lord God OMNIPOTENT (possessing infinite power) reigneth (Revelation 19:6).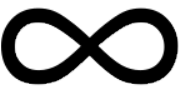 The use of the infinity symbol for
mathematics dates back to 1655 A.D.
For futher study please see Deuteronomy 33:27, Daniel 6:26, 12:3, John 3:16, 10:28, 1Timothy 1:17, 2Peter 1:11, Hebrews 7:16, 13:8 and Revelation 11:15.
God and Infinity
Some of God's many names in the Bible reveal his relationship with infinity.
Isaiah calls the Lord the "everlasting God," or El Olam, a name that declares he has always existed and will continue to live without end. The Hebrew El Shaddi is translated "God Almighty" in Exodus 6:3 and "Almighty God" in Ezekiel 10:5. This name conveys the fact that the Lord possesses all power or power without any limitations (infinite).
Perhaps the most important name of the Lord that shows his link to the infinite is revealed when he calls Moses to free his people from Egyptian slavery.
Behold, when I (Moses) come unto the children of Israel, and shall say unto them, The God of your fathers hath sent me unto you; and they shall say to me, What is his name? What shall I say unto them?

And God said unto Moses, I AM THAT I AM: and he said, Thus shalt thou say unto the children of Israel, I AM hath sent me unto you (Exodus 3:13 - 14).
The phrase "I am that I am" can also be rendered "I will be what I will be." What God revealed through Moses was His infinite power and perfect willingness to provide anything, without limit, at any time His wisdom deems is needed. The short phrase "I Am" also reveals that the Lord's existence is without measure both in the past and the future (infinity), meaning that it had no beginning and has no end.