Cabul
Bible Meaning: Binding, sterile
Strong's Concordance #H3521
Cabul is the name of a city located on the border of territory given to Asher as an inheritance in the Promised Land (Joshua 19:27).
Cabul is also the disparging name King Hiram of Tyre gave to a group of Galilean cities gifted to him by King Solomon. The area was so disappointing that he promptly gave them back! Solomon is recorded to have rebuilt many of the cities given back to him by Hiram (2Chronicles 8:2), although the Bible does not list which ones they were. The Jewish Historian Josephus tells us the following about Cabul.
"When Solomon had completed all this in twenty years' time, because Hiram King of Tyre had contributed a great deal of gold, and more silver to these buildings, as also cedar wood and pine wood, he also rewarded Hiram with rich presents . . .
"And besides these, he granted him certain cities of Galilee, twenty in number, that lay not far from Tyre; which, when Hiram went to, and viewed, and did not like the gift, he sent word to Solomon that he did not want such cities as they were; and after that time these cities were called the land of Cabul" (Antiquities of the Jews, book 8, chapter 5, section 3).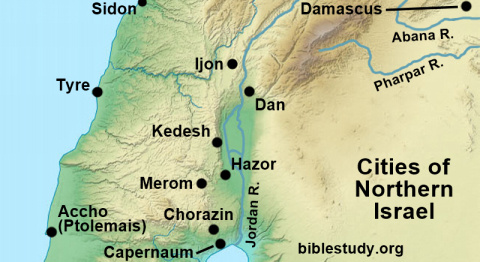 General Region of Cabul
Important verses
City
Joshua 19:24, 27
And the fifth lot came out for the tribe of the children of Asher according to their families. And their border was Helkath, and Hali, and Beten, and Achshaph . . .
And turneth toward the sunrising to Bethdagon, and reacheth to Zebulun, and to the valley of Jiphthahel toward the north side of Bethemek, and Neiel, and goeth out to Cabul on the left hand . . .
Region name
1Kings 9:11 - 13
(Now Hiram the king of Tyre had furnished Solomon with cedar trees and fir trees, and with gold, according to all his desire,) that then king Solomon gave Hiram twenty cities in the land of Galilee.
And Hiram came out from Tyre to see the cities which Solomon had given him; and they pleased him not. And he said, What cities are these which thou hast given me, my brother? And he called them the land of Cabul unto this day.
Additional Studies