Zarephath (Sarepta)
Bible Meaning: Refinery, refinement
Strong's Concordance #H6886
Zarephath was one of the cities within the region known as Phoenicia. It was located between the ancient city-states of Tyre and Sidon. Before the New Testament period the name had changed to the Greek Sarepta (Luke 4:26, Strong's #G4558 meaning, "smelting").
God, after Elijah the prophet declared that no rain would fall on Israel, sent him to the brook Cherith so that he could be fed and hid from King Ahab. After the brook dried up the prophet was sent outside of Israel to a widow living in Zarephath (1Kings 17:9). Elijah was sustained by the widow through a miraculous cruse of oil and barrel of meal that never went empty!
Later Elijah, when the widow's son died, performed the Bible's first resurrection miracle by raising him from the dead (1Kings 17:17 - 24)!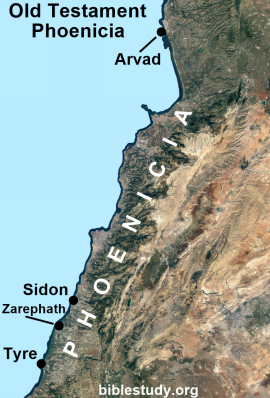 Location of Zarephath in Phoenicia
The widow's acceptance of Elijah was used by Jesus in his message to those in his hometown of Nazareth. He used it to illustrate how those God sends are more readily accepted and honored by non-Israelites (strangers) than those who know them the most (Luke 4:24 - 26).
Another Prophetic Connection
A man named Amittai was the father of the prophet Jonah (Jonah 1:1). Amittai, according to the 1906 Jewish Encyclopedia, was from the tribe of Zebulon and lived at Zarephath (article on Amittai).
Important Verses
1Kings 17:1, 8 - 10
And Elijah the Tishbite, who was of the inhabitants of Gilead, said unto Ahab, As the Lord God of Israel liveth, before whom I stand, there shall not be dew nor rain these years, but according to my word.
And the word of the Lord came unto him, saying, Arise, get thee to Zarephath, which belongeth to Zidon (Sidon), and dwell there: behold, I have commanded a widow woman there to sustain thee.
So he arose and went to Zarephath. And when he came to the gate of the city, behold, the widow woman was there gathering of sticks: and he called to her, and said, Fetch me, I pray thee, a little water in a vessel, that I may drink.
Obadiah 1:20
And the captivity of this host of the children of Israel shall possess that of the Canaanites, even unto Zarephath: and the captivity of Jerusalem, which is in Sepharad, shall possess the cities of the south.
Luke 4:24 - 26
And he (Jesus) said, Verily I say unto you, No prophet is accepted in his own country.
But I tell you of a truth, many widows were in Israel in the days of Elias (Elijah), when the heaven was shut up three years and six months, when great famine was throughout all the land;
But unto none of them was Elias (Elijah) sent, save unto Sarepta, a city of Sidon, unto a woman that was a widow.
Additional Studies