The birth of Jesus Christ in the fall of 5 B.C. is one of the greatest New Testament events to take place. His arrival on earth, to save mankind from his sins and to offer him a New Covenant promising everlasting life, was foretold in the Bible's first Old Testament prophecy (Genesis 3:15).
Below is a list of Old Testament Messianic prophecies and the New Testament verses that record their fulfillment by Christ. This list includes verses that foretell the lineage, character and authority Jesus would possess upon his birth.
Jesus' birth would be like other humans
And I will put enmity between you and the woman, and between your seed and her Seed; He will bruise your head, and you shall bruise His heel (Genesis 3:15, HBFV throughout).
But when the time for the fulfillment (his appointed time) came, God sent forth His own Son, born of a woman, born under law (Galatians 4:4).
Born a physical descendant of Judah
The scepter shall not depart from Judah, nor a lawgiver from between his feet, until Shiloh come. And to Him shall be the obedience of the people (Genesis 49:10).
And Jesus Himself began to be about thirty years old, being, as was supposed, the son of Joseph, the son-in-law of Eli (Eli was the name of Mary's father) . . . The son of Aminadab, the son of Aram, the son of Esrom, the son of Phares, the son of Juda (Judah) . . . (Luke 3:23, 33).
Born having right to David's throne
Of the increase of His government and peace there shall be no end, upon the throne of David, and over His kingdom, to order it and to establish it with judgment and with righteousness from henceforth, even forever . . . (Isaiah 9:7).
He (Jesus) shall be great, and shall be called the Son of the Highest; and the Lord God shall give Him the throne of David, His forefather (Luke 1:31 - 32).
God in the flesh
Your throne, O God, is forever and ever; a scepter of justice is the scepter of Your kingdom. You love righteousness and hate wickedness; therefore God, Your God, has anointed You with the oil of gladness above Your fellows (Psalm 45:6 - 7).
For unto us a Child is born, unto us a Son is given; and the government shall be upon His shoulder; and His name shall be called Wonderful, Counselor, The Mighty God, The Everlasting Father, The Prince of Peace (Isaiah 9:6).
Jesus said to them, "Truly, truly I say to you, before Abraham was born, I AM." (John 8:58, I AM is one of God's names revealed to Moses in Exodus 3:13 - 14).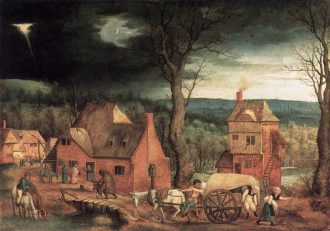 Arrival of the Holy Family in Bethlehem
Cornelis Massys
Born in Bethlehem through a virgin
And you, Bethlehem Ephrathah, you being least among the thousands of Judah, out of you He shall come forth to Me, that is to become Ruler in Israel. He Whose goings forth have been from of old, from the days of eternity (Micah 5:2).
Therefore, the Lord Himself shall give you a sign. Behold, the virgin shall conceive and bring forth a Son, and they shall call His name Immanuel (Isaiah 7:14).
And Joseph also went up from Galilee, out of the city of Nazareth, into Judea, to the city of David which is called Bethlehem, because he was from the house and lineage of David . . . And it came to pass that during the time they were there, the days were fulfilled for her (Mary) to give birth. And she gave birth to her Son . . . (Luke 2:4, 6 - 7)
And in the sixth month of her pregnancy, the angel Gabriel was sent by God to a city of Galilee, named Nazareth, to a virgin betrothed to a man whose name was Joseph, of the lineage of David; and the name of the virgin was Mary (Luke 1:26 - 27).
Jesus given power to overcome the devil
And I will put enmity between you and the woman, and between your seed and her Seed; He will bruise your head, and you shall bruise His heel (Genesis 3:15, HBFV throughout).
Now is the judgment of this world. Now shall the prince of this world be cast out (John 12:31).
In the world you shall have tribulation. But be courageous! I have overcome the world (John 16:33).
Birth of Messiah leads to mass murder
A voice was heard in Ramah, lamentation and bitter weeping; Rachel weeping for her children; she refuses to be comforted for her children because they are not (Jeremiah 31:15).
Then Herod, seeing that he had been mocked by the Magi, was filled with rage; and he sent and put to death all the boys who were in Bethlehem and in the area all around, from two years old and under, according to the time that he had ascertained from the Magi.
Then was fulfilled that which was spoken by Jeremiah the prophet, saying, "A voice was heard in Rama, lamentation and weeping . . ." (Matthew 2:16 - 18).
God's Son called out of Egypt
When Israel was a child, then I loved him and called My son out of Egypt (Hosea 11:1).
An angel of the Lord appeared to Joseph in a dream, saying, "Arise and take the little Child and His mother, and escape into Egypt, and remain there until I shall tell you; for Herod is about to seek the little Child to destroy Him . . . And was there until the death of Herod; that it might be fulfilled which was spoken by the Lord through the prophet, saying, "Out of Egypt I have called My Son" (Matthew 2:13, 15).
A prophet like Moses
The Lord your God will raise up unto you a Prophet from the midst of you, of your brethren, One like me. To Him you shall hearken (Deuteronomy 18:15).
For Moses truly said to the fathers, "A Prophet shall the Lord your God raise up to you from among your brethren, like me; Him shall you hear in all things that He shall say to you . . ." (Acts 3:22).
God's spirit without measure from birth
And the Spirit of the Lord shall rest upon Him, the spirit of wisdom and understanding, the spirit of counsel and might, the spirit of knowledge and of the fear of the Lord (Isaiah 11:2, see also 42:1).
For He Whom God has sent speaks the words of God; and God gives not the Spirit by measure unto Him (John 3:34, see also John 1:32, Romans 15:12).
Jesus will possess key of David
And the key of the house of David I will lay upon his shoulder; so he shall open, and none shall shut; and he shall shut, and none shall open (Isaiah 22:22).
And to the angel of the church in Philadelphia, write: These things says the Holy One (Jesus), the One Who is true; the One Who has the key of David, Who opens and no one shuts, and Who shuts and no one opens (Revelation 3:7).