What do the paradoxes of Apostle Paul reveal about being an effective representative of God's kingdom? What do they tell us about the Eternal's plans for offering salvation to all humans? How do they bear witness to the Godhead's perfect love toward us?
This article delves into five paradoxes recorded by Paul and how they can be resolved to reveal the mind and will of God.
Strength through weakness
For this reason, I take pleasure in weaknesses, in insults, in necessities, in persecutions, in distresses for Christ; for when I am weak, then I am strong (2Corinthians 12:10, HBFV throughout).
How could the Apostle Paul be both weak and strong at the same time? The key to this paradox is that Paul is commenting on both the physical and spiritual aspects of his life.
The apostle was no stranger to manifold trials and difficulties, a situation that was prophesied to take place during his entire ministry (Acts 9:16). The many beatings he received, the three shipwrecks he endured, the harsh and dangerous travel he undertook and so on took a toll on his health (2Corinthians 11:23 - 27). He also endured his famous "thorn in the flesh" which motivated him to write about this paradox (12:7). On top of this, he experienced strong and sometimes violent opposition to both him and his message.
God allowed Paul to become weak, and beset with other troubles, so that he would learn not to rely solely upon himself to accomplish his goals. Such weaknesses would also greatly lessen the chances of becoming vain and proud over what he was able to do (see 1Corinthians 1:27 - 29).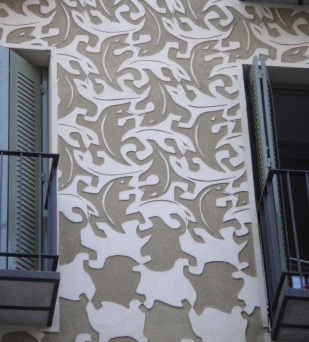 Escher inspired facade on building
In his weakness Paul had to completely rely on God's strength to carry out the tasks of bearing his name before the Gentiles, kings and Israelites (Acts 9:15). His weaknesses worked to make him spiritually mature and strong.
Not all Israel is Israel?
However, this does not mean that the word of God has failed because not all of those who descend from Israel are Israel . . . (Romans 9:6 - 7).
How is it possible that not all of the descendants of Israel (Jacob) are Israelites? How are we to understand this perplexing Apostle Paul paradox?
This key to this paradox is the Biblical teaching of two Israels. The primary focus of the Old Testament is on the physical descendants of Israel. It records their entering and leaving Egypt, their acceptance of the Old Covenant, their entrance into the Promised Land and so on. The New Testament, however, centers on Jesus and the New Covenant he made possible. Those who repent and accept this covenant are considered the new or spiritual Israel of God.
Paul, in other places, makes it plain that faith, not physical descent, determines whom God considers Israel and heirs to the promises.
Because of this, you should understand that those who are of faith are the true sons of Abraham . . . In order that the blessing of Abraham might come to the Gentiles by Christ Jesus, and that we might receive the promise of the Spirit through faith (Galatians 3:7, 14, see also Romans 4:16).
Jesus also referenced the distinction between physical and spiritual descendants of Abraham (Israel) when he gave the Pharisees a paradox they rejected (see John 8:37, 39).
An ambassador in chains?
And for me (Paul), that boldness of speech may be given to me so that I may open my mouth to make known the mystery of the gospel, for which I am an ambassador in chains . . . (Ephesians 6:19 - 20, see also 2Corinthians 5:18 - 20).
This paradox is rather straightforward. When Paul wrote the above verses he was chained to a Roman soldier and under house arrest (Acts 28:16, 20). How could he claim to be an ambassador when he was not afforded the freedom granted to such individuals?
Ancient ambassadors usually had rights and protections granted to them in the country in which they carried out their duties.
"Ambassadors were to be received with all the respect due the ones who sent them; as heralds, they were to be immune from hostility even if they represented an enemy kingdom." (Bible Background Commentary on Eph. 6:20).
Paul, in spite of his chains, was indeed an ambassador representing God's soon coming kingdom. While in prison he was still able to preach the gospel through personal interactions and letters. In fact, six of his fourteen Biblical books were penned while he was a prisoner. The world, as long as it is led by the devil (John 14:30, 2Corinthians 4:3 - 4), will never treat those representing God with any respect or protections. This is because it doesn't recognize God as a King or accept the validity of his Kingdom!
Salvation lost and found
What then shall we say? That the Gentiles, who did not follow after righteousness, have attained righteousness, even the righteousness that is by faith. But Israel (the Jews in particular), although they followed after a law of righteousness, did not attain to a law of righteousness (Romans 9:30 - 31).
This great paradox of salvation, given by Apostle Paul, is somewhat related to the one found in Romans 9:6 - 7. How was salvation found by those who were not looking for it? How could those who zealously pursued righteousness not attain it?
Jews believed their physical descent from Abraham (Luke 3:8, John 8:33 - 40), along with receiving God's law and zealously keeping it, earned them salvation. They maintained this errorneous view in spite of receiving correction from John the Baptist (Matthew 3:9), Jesus (John 8:34 - 44) and others. They disqualified themselves from true salvation by trying to save themselves through their own efforts that lacked faith.
The Gentiles (non-Israelites), however, were not offered the Old Covenant directly like ancient Israel. They, therefore, did not pursue righteousness but rather indulged themselves in sin. When God, in his mercy, extended salvation to them, they were not hindered by a self-righteous belief that they deserved anything from him. They were willing to repent and accept his gift of salvation based on faith.
Rich through poverty
For you know the grace of our Lord Jesus Christ: that although He was rich, He became poor for your sakes, so that by His poverty you might become rich. (2Corinthians 8:9).
How can someone who is poor make countless others rich? The last paradox of Apostle Paul we will discuss involves Jesus' existence both before and after he became a human.
To declare Jesus, the God of the Old Testament, as being rich before his incarnation is a massive understatement! He possessed unmatched glory and honor as the Creator of both heaven and earth (Romans 11:36, Hebrews 2:10). As a member of the Godhead everything was his (John 1:3), including all the gold, silver, precious stones and everything of any value in the entire universe.
Christ, in order to become the perfect sacrifice for sin, had to divest himself of many powers and privileges of deity. He gave up his glory, the ability never to die, the power he shared with the Father and so on. According to Paul, He was more than willing to take on the role of a humble servant (Philippians 2:6 - 8) so that, through his death, we could be offered a glorious eternal future (1Corinthians 2:9).