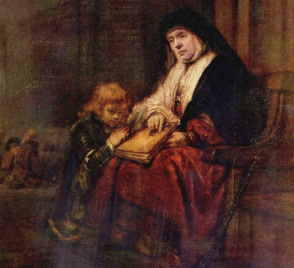 Timothy and Grandmother by Rembrandt
Timothy was a native of Lystra. In the KJV New Testament, he is referenced a total of twenty-eight times (nine times using his well-known name and nineteen times as Timotheus). Church tradition (see the bottom of this article regarding his death) suggests he was born around 17 A.D.
The mother of Timothy was a Jewess named Eunice. She later, however, became a Jewish Christian (Acts 16:1, 2Timothy 1:5). His father was a Greek (Gentile). The grandmother of Timothy, on his mother's side, was named Lois and she, too, became a Christian. Both women were likely converted during Paul's first evangelistic journey to the city in 46 A.D., when he healed a cripple man but soon after was stoned to death and resurrected (see Acts 14).
According to Paul, Timothy was taught, when he was a child, about the Scriptures (see 2Timothy 3:14 - 15). Note that the Old Testament, which many people disregard, was the foundation on which salvation could be achieved! The first time Paul meets an unmarried Timothy is in Lystra, around early 50 A.D., soon after he began his second missionary journey
At the time Paul met Timothy they were roughly 48 and 33 years old, respectively. Based on the recommendation of several church members both in the city and in Iconium, Paul decides to take the young man with him as he travels preaching the gospel (Acts 16:2 - 3). Before this can happen, however, the apostle pays to have him circumcised (verse 3).
Why was he circumcised?
Why did the apostle, who vigorously argued that circumcision was not necessary in order to receive salvation (see our article on The Jerusalem Conference) have Timothy his friend undergo this painful procedure? It was likely for the sake of expediency.
Paul's method for evangelizing a particular area was to first visit the local synagogues (see Acts 13:5, 14, 14:1, 18:4, 19, 19:8, etc.) and preach the gospel to Jews and proselytes (Romans 1:16, 2:9 - 10). He would then (usually because many in the synagogue would reject his message) preach about God's kingdom to Gentiles (Acts 13:45 - 46, 18:6, 19:9).
The apostle no doubt felt, given the zealously-held prejudices against those not circumcised, that a circumcised Timothy would circumvent these biases and allow the gospel to be heard by synagogue members.
"Now, for Apostle Paul to travel among the Synagogues with a companion in this condition (uncircumcised), - and to attempt to convince the Jews that Jesus was the Messiah, when his associate and assistant in the work was an uncircumcised Heathen, - would evidently have been to encumber his progress and embarrass his work . . .

"Had Timothy not been circumcised, a storm would have gathered round the Apostle in his further progress. The Jews, who were ever ready to persecute him from city to city, would have denounced him still more violently in every Synagogue . . ." (Life and Epistles of Apostle Paul by Conybeare and Howson, chapter 8).
His unique character and service
The Bible records, after Timothy was ordained to serve by Paul and church brethren (1Timothy 4:14, 2Timothy 1:6), he ministered in at least five New Testament churches (1Thessalonians 3:1 - 2, 1Corinthians 4:17, Philippians 2:19 - 22, Acts 17:14 and 1Timothy 1:3).
Timothy accompanied Paul on most of his second journey travels after he left Lystra. Scripture then informs us he was with the apostle in Ephesus during his third missionary journey. While in the city he and a man named Erastus are sent by Paul to minister to brethren in Macedonia (Acts 19:22). Later on, he meets with others at Troas to accompany the apostle through Asia on his way to Jerusalem (Acts 20:4 - 5).
Paul is imprisoned in Rome, beginning in 61 A.D., at the end of his fourth missionary journey (Acts 28:16 - 31). While he is in prison, he writes four epistles, three of which mention Timothy being with him (Philippians 1:1, 2:19, Colossians 1:1, Philemon 1:1). At the end of his fifth and final journey, while in Rome a second time just before his death, he requests his closest friend visit him and bring his personal copies of his writings (2Timothy 4:9, 13, 21).
Paul testified to those in Philippi regarding the unique Christian character of Timothy and his dedication to spreading the gospel. He said, "For I have no one who is likeminded, who has genuine concern for you . . . But you know the proof of him, that as a child with a father, he served with me in the gospel (Philippians 2:20, 22).
Death as a Martyr
Catholic tradition states Timothy died in Ephesus when he was over 80 years old (1913 Catholic Encyclopedia). According to the first chapter of Foxe's Book of Martyrs, he died in 97 A.D. upholding the truth of the Bible. Foxe's states he was the bishop of Ephesus and was murdered when he told a crowd of pagans that their idolatrous celebrations were ridiculous.