Colosse (Colossians)
Bible Meaning: Monstrosities
Strong's Concordance #G2857
Colosse (the recipents of Paul's letter to the Colossians) is located south of Laodicea in the southwestern part of Asia Minor. It was built at the head of a gorge where two streams unite. Not only was it on a Roman road that connected it to other destinations in the province such as Laodicea and Hierapolis, it was also blessed with rich mineral deposits.
The chief export of Colosse, for which it was famous, was a unique wool called collossinus that was likely colored purple. Although the Colossians were prominent during the Greek period of history, by Apostle Paul's day the area had lost much of its importance.
The general area around Colosse was prone to frequent earthquakes. These events were so violent that an earthquake during the latter part of Emperor Nero's reign destroyed the city and surrounding areas.
Reached by the gospel
The Apostle Paul wrote the book of Colossians between 61 and 63 A.D. while he was a prisoner in Rome. Surprisingly, not only had Paul not visited Colosse before writing his epistle, the Bible does not record him ever visiting the church! Christian fellowships in the city were likely started by Epaphras (Col. 1:7) or possibly Timothy (1:1).
Epaphras was a resident of Colosse who was also one of Paul's coworkers (Col. 4:12 - 13). The city was also home to a Christian named Philemon. He generously allowed his house to be used as a gathering place to worship God on the Sabbath (Philemon 1:2).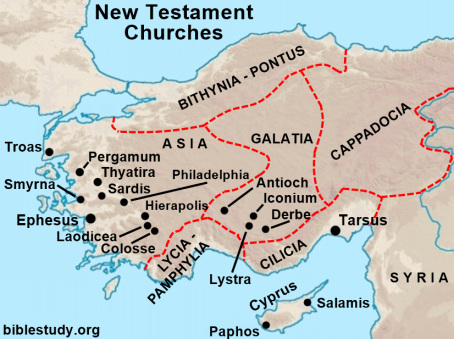 Important verses
Colossians 1:1 - 2
Paul, an apostle of Jesus Christ by the will of God, and Timotheus (Timothy) our brother,
To the saints and faithful brethren in Christ which are at Colosse: Grace be unto you, and peace, from God our Father and the Lord Jesus Christ. We give thanks to God and the Father of our Lord Jesus Christ, praying always for you . . .
Additional Studies