Question: Why did Jesus say, "Woman, behold your son!" to his mother Mary while he was on the cross?
Answer: The Bible verses concerning your question are found in the book of John.
He (Jesus) said to his mother (while he was hanging on the cross and dying), 'Woman, behold your son!' (John 19:26)
According to A Manual Greek Lexicon of the New Testament by G. Abbott-Smith, using the word "woman" to refer to a female was "a term of respect and endearment." Bullinger's Companion Bible notation for verse 26 refers the reader to John 2:4 where Jesus also uses the term "woman." In the notes pertaining to this verse, "woman" is "a respectful form of address."
Adam Clarke's Commentary on the Bible for this verse makes an interesting comment as to WHY Jesus might have used the term "woman." It states he did so to possibly spare his mother's feelings, as the very mention of her name (given her firstborn son was being brutally killed though he was innocent) would have wrung more sorrow out of her heart.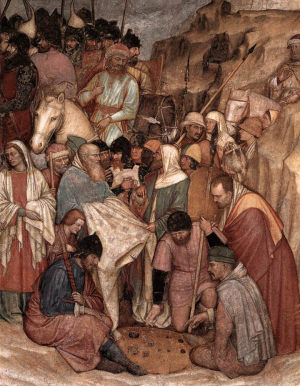 Soldiers playing games at Crucifixion
John Gill's Exposition of the Entire Bible adds another interesting facet as to why this designation might have been used.
"Christ calls her not mother, but woman; not out of disrespect to her, or as ashamed of her; but partly that he might not raise, or add strength to her passions, by a tenderness of speaking; and partly to conceal her from the mob, and lest she should be exposed to their rude insults"
Luke 2:7 tells us that Jesus was Mary's firstborn Son (see also Matthew 1:25). Matthew 12:46 - 49, Matthew 13:55 - 56, Mark 3:31 - 35 and Luke 8:19 - 21 all refer to Jesus' family but none mention Joseph, His legal father, who had probably died years earlier. Since Jesus was the oldest son, it was His responsibility to insure the care of His mother. This was Jewish custom and part of honoring one's parents in accordance with the commandment.
Jesus, as he hung on the cross, knew his death was near. He was in severe pain and knew He was about to make the ultimate sacrifice according to His heavenly Father's plan. In spite of the agony, Jesus was concerned about his mother and her care after he was gone.
Christ made provision for His mother by charging one of his disciples, whom He deeply loved, to take care of her as if she was his mother. As is written in John 19:27, Jesus' oral statement before witnesses made the obligation to the beloved disciple (John) binding.
The meaning and significance of Jesus' statements in John 19:25 - 27 toward the "woman" who was his mother shows us that we are to love our parents and to provide for them as much as we are physically able. By so doing, we also show our love for Jesus and for God our Father.