Homes are made by the wisdom of women, but are destroyed by foolishness (Proverbs 14:1).
A gracious woman keeps honor, and strong men retain riches (Proverbs 11:16).
Beauty in a woman without good judgment is like a gold ring in a pig's snout (Proverbs 11:22).
A good wife is her husband's pride and joy (Proverbs 12:4).
He who finds a wife finds what is good and receives favor from the Lord (Proverbs 18:22).
Houses and wealth are inherited from parents, but a prudent wife is from the Lord (Proverbs 19:14).
It is better to dwell in a corner of the housetop than to share a house with a quarrelsome woman (Proverbs 21:9).
It is better to dwell in the wilderness than with a quarrelsome and angry woman (Proverbs 21:19).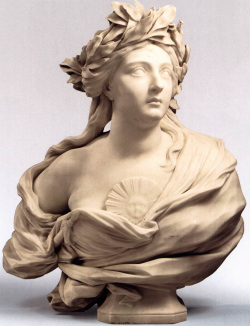 Allegory of virtue
Filippo Parodi, 1684 - 94
For a harlot is a deep ditch, and a wanton woman is a narrow pit (Proverbs 23:27).
It is better to dwell in the corner of the housetop than to share a house with a contentious woman (Proverbs 25:24).
A never-ending dripping on a very rainy day and a contentious woman are alike (Proverbs 27:15).
Such is the way of an adulterous woman: she eats, and wipes her mouth, and says, 'I have done no wickedness' (Proverbs 30:20).
For three things the earth is disquieted, and for four it is not able to bear up: For a slave when he reigns; and a fool when he is filled with food; For a hateful woman when she is married; and a servant girl that is heir to her mistress (Proverbs 30:21 - 23).
World's Wit and Wisdom
After three days men grow
weary of a wench, a guest
and weather rainy.
Benjamin Franklin, 1706 - 1790
The Virtuous Woman
Proverbs 31 is written by King Lemuel of Massa, whose name means "devoted to God." Its title states the king received these words of wisdom from his mother (Proverbs 31:1).
Although the exact location of the kingdom of Massa is uncertain, some commentaries believe it was located near Edom and may be linked to one of Ishmael's twelve sons who became princes (Genesis 17:20, 25:14, also see our article on "Islam and the Bible"). If this proves true, it would make Lemuel one of the few non-Israelite writers of the Bible.
This section is also particularly unique in that it conveys the wisdom of a mother to her son. The vast majority of sayings in this Bible book are from a father (e.g. Solomon) to his sons (Proverbs 1:8, 2:1, 3:1, 4:10, 5:1, etc.).
Additionally, this section refutes the idea that the Bible teaches that women ought to stay at home and take care of their household while their husbands are the sole wage earners. Key verses that show a good woman is not only an asset at home but is also engage is business activities include the following.
She will do him (her husband) good and not evil all the days of her life. She seeks wool and flax, and works willingly with her hands.
She is like the merchants' ships; she brings her food from afar.
She considers a field and buys it; with the fruit of her hands she plants a vineyard. She binds her loins with strength and makes her arms strong. She sees that her merchandise is good; her lamp does not go out by night.
She makes fine linen and sells it, and delivers girdles to the merchants. Strength and dignity are her clothing, and she shall rejoice in time to come.
She looks well to the ways of her household, and does not eat the bread of idleness.
Give her of the fruit of her hands, and let her own works praise her in the gates (Proverbs 31:12 - 14, 16 - 18, 24 - 25, 27, 31).
World's Wit and Wisdom
A happy home is one in
which each spouse grants the
possibility that the other may
be right, though neither believes it.
Don Fraser, 1946 - 1985
The jealous are the readiest
of all to forgive, and
all women know it.
Fedor Dostoevsky, 1821 - 1881
Women deserve to have
more than twelve years between
the ages of twenty-eight and forty.
James Thurber, 1894 - 1961
The ultimately outcome for women who take up the challenge of Proverbs 31 is found in the next to last verse of the chapter.
Favor is deceitful, and beauty is vain; but a woman who fears the Lord, she shall be praised (Proverbs 31:30).